Alaska Cruise - Part 8
Anchorage
by Tom Mugridge
We arrived at the hotel we would use as our "base camp". We had 3 different reservations for our stay here: 3 nights for our initial stay, one night for when we returned from Denali before heading back out on our next excursion, plus the final night before our flight home out of Anchorage Airport. An added, unexpected bonus: free Internet access for guests, which I relished as I could catch up on some overdue communications with home without having to find the local library.
We checked in and dumped our luggage in the room, anxious to explore downtown Anchorage. We spent the rest of the afternoon and early evening wandering the streets, checking out the restaurants and stores, and looking into the souvenir shops, making mental notes of what we would buy before heading home the next week.


The following day we spent doing what could be done without our own transportation. We stopped at the Visitor's Center, cleverly housed in a log cabin. Here we learned about a trolley tour of downtown and the surrounding area that was leaving very soon, so we decided to grab it.

After a run around town, the trolley headed to the outskirts of Anchorage. We went by another area that was affected by the Great Quake of 1964. The ground had sunk several feet, and the birch woods suddenly found itself growing a bit closer to sea level!

From one vantage point on the tour we could see Anchorage beyond more mud flats (the tide seemed to be out everywhere we went!). We could also see the very top of Mt. McKinley. This may not sound so incredible until you hear that Mt. McKinley is over 200 miles from Anchorage!

The weather was so clear we could see it from that distance (through binoculars it was a bit clearer). Our tour guide informed us that you don't see The High One from Anchorage very often, so this was pretty rare.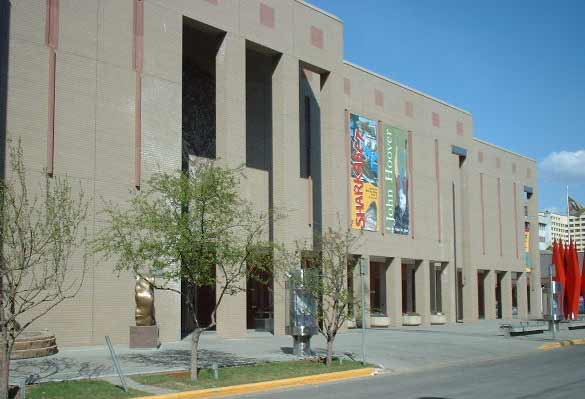 After the tour we decided to visit the Anchorage Museum of History and Art, which was only a couple blocks from our hotel. This museum is the largest in Alaska, with exhibits on its art, history and culture. More than 20 exhibitions are presented to over 200,000 visitors every year.

We saw artifacts ranging from prehistoric times through Alaska's early European exploration, settlement by Russia, the gold rush period, World War II and on to statehood.

There were examples of a gold miner's cabin and an early Alaskan house, a full-scale diorama of an Athabaskan tent, and a Quonset hut (used in World War II). There was also a fascinating exhibit about the Alaska pipeline, including a section of 4-foot pipe. The whole museum is a must-see.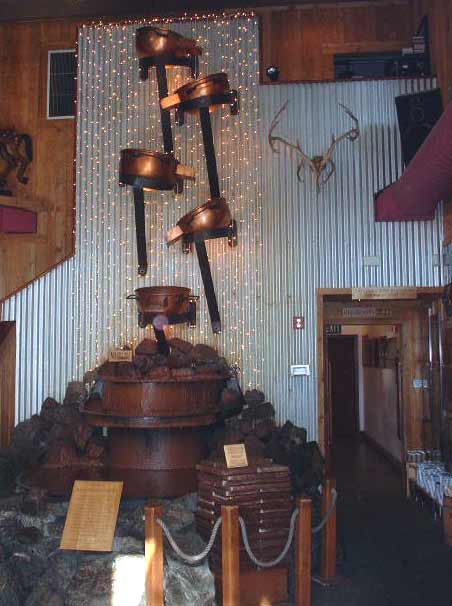 Still raring to go, we decided to grab a shuttle to a restaurant and gift shop on the outskirts of town that boasted the world's tallest chocolate falls. We were disappointed upon arrival to learn that the falls was out of order, but happy with the fact that there was still plenty of chocolate to be had!
The next day was to be our last full day before heading up to Denali National Park. We wanted to do a number of things, and decided to rent a car.
First on our agenda was the Alaska Native Heritage Center, a must-do if you want a real-life experience. About 15 minutes from town, the center presents information on the native groups that inhabit Alaska. Inside the main building is a Gathering Place, where stories are told and native dances performed.
There is also a theater with a short film that introduces Alaska's 11 indigenous cultures, the stunningly beautiful Alaskan landscapes, and the resources that have sustained Alaskans over time.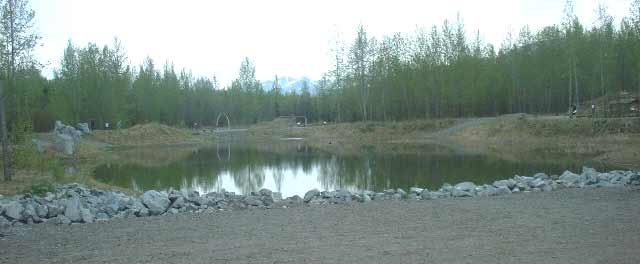 Outside, surrounding a pond, are life-size, native-built exhibits of their various housing. Tribal members staff each exhibit, and they are eager to share their customs and traditions with you. We recognized many of them later, performing those native dances back at the Gathering Place.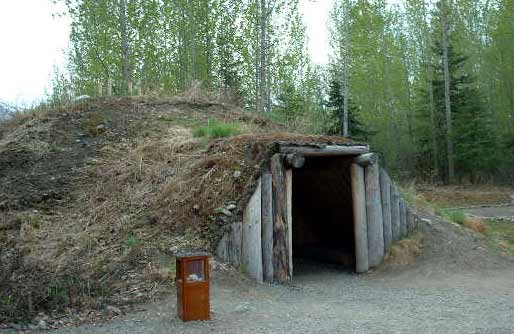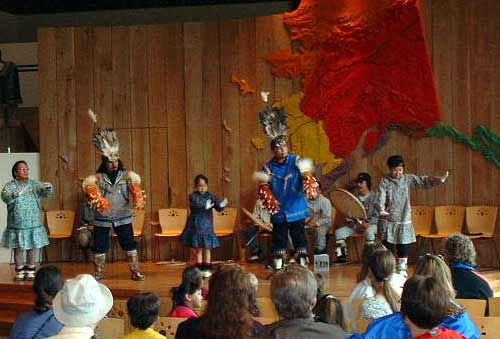 With plenty of time and daylight left, we headed to Flattop Mountain, just outside Anchorage. We had heard this is the most-climbed mountain in Alaska, and from it you are rewarded with a spectacular panorama of the entire area from over 3,500 feet.

On the way we saw a large, dark animal by the roadside. We didn't know what it was at first, but then realized that it was a porcupine. By the time I got the camera out he (or she) had begun a slow retreat, so the picture I got wasn't exactly his (or her) better side.

We arrived at the parking lot, surprised to see how many other people were there. It costs $5.00 to park, the money going to maintain the lot and the trails. Pat patiently waited for me in the car while I went on my nature climb. I decided that as far as I could get in 30 minutes would be my limit.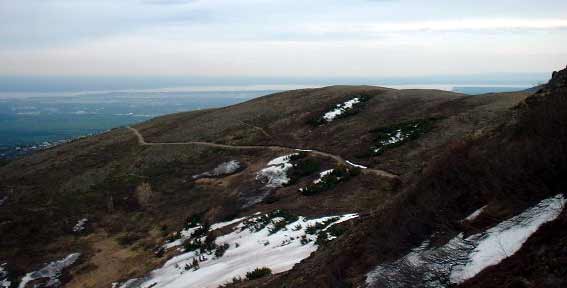 Although the sky was overcast, the temperature was in the 60's that day. I was wearing only a t-shirt with a denim shirt over it, but this proved to be warm enough attire.

Most of the way was clear, but there were some areas covered with deep snow. One of the paths was totally covered, and I had to walk along a narrow, 1-foot wide ledge of snow compressed by previous hikers. One slip, and it was a long, long roll to the bottom. One step at a time, and with a hand gripping into the snow bank for extra stability, my cameras and I slowly made our way.

I didn't make it to the top. I had spent a lot of time crossing the snow-bound areas so slowly that I had reached my 30 minute time limit, so I took photos from an outcrop and was satisfied with that. After taking the photos, I realized I had to go back the way I came, across that narrow, slippery ledge again.

Obviously, I made it safely. Once I had crossed what I had termed the "death ledge", the return path then branched off and followed a different route back to the parking lot.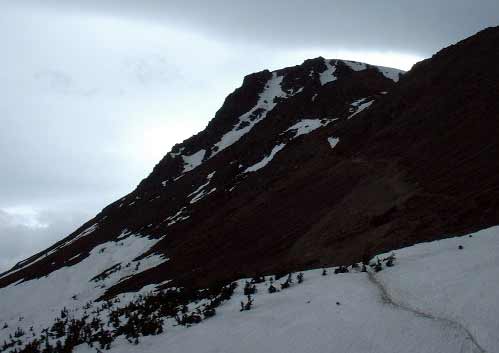 Along the way I snapped a shot of Flattop Mountain as seen from the path, wondering what the view would have been from on top.

As it was getting late in the day, we started heading back toward town, but decided to drive around Lake Hood first. We had seen Lake Hood the day before during the trolley tour, and wanted to get a better look.

Operated by the Anchorage International Airport immediately adjacent to it, Lake Hood is the largest and most active seaplane base in the world. During a peak day in summer, over 800 landings and takeoffs occur.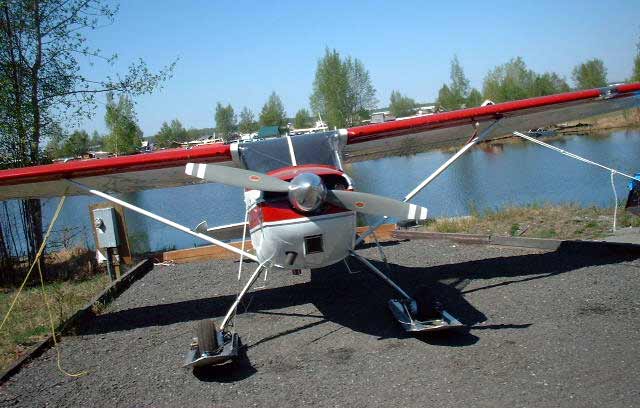 On the south shore of Lake Hood is the Alaska Aviation Heritage Museum, which houses vintage bush planes. You'll also find some colorful history about Alaska's pioneer pilots, along with historical films and photos.

We had a great time watching the planes go in and out. It's amazing how quickly these smaller seaplanes leave the water when they take off, especially when compared with the jumbo jets taking off next door.

Tired after a long day of sightseeing, we grabbed dinner at a local restaurant our tour guide had recommended the day before (it was a good recommendation!), returned the car, packed our bags, and settled in for the evening. The Alaska Railroad would be taking us to Denali National Park at 8:30 the next morning.



---
Top of Page


Part 1 of the Alaska Trip
Part 2 of the Alaska Trip
Part 3 of the Alaska Trip
Part 4 of the Alaska Trip
Part 5 of the Alaska Trip
Part 6 of the Alaska Trip
Part 7 of the Alaska Trip
Back to Travel