Alaska Cruise - Part 7
From Seward to Anchorage via the Alaska Railroad
by Tom Mugridge
Our ship docked in Seward around 2:30 in the morning. Like everybody else, we had affixed special color-coded tags to our check-through luggage denoting its intended destination and left it outside our cabin door before retiring. Overnight, stewards collected everything and organized it for transfer upon docking. We awoke to an early-morning view of Seward, which was just beginning to stir for the day.
Due to the large number of passengers, it is necessary to disembark at staged times. Our train was pulling out at 8:00 a.m., so we were to disembark by 7:00 a.m. We gathered with others at our pre-designated point in the ship, prepared to follow instructions on where to go and when.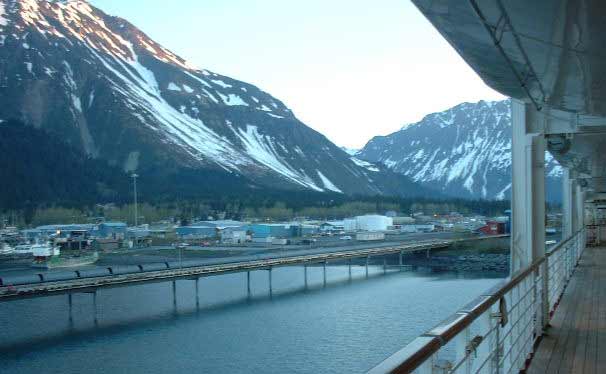 We reluctantly walked down the gangplank. Behind us we were leaving one of the most awesome experiences we'd ever had. The crew had treated us like royalty, always with a friendly smile, from the cruise director with whom we often crossed paths in the hall to the gentleman who came to do a repair in our cabin.

And never before had we awoken in the morning able to leave our room, walk for literally 1 minute, and find the wide-open grandeur of Alaska floating by right outside.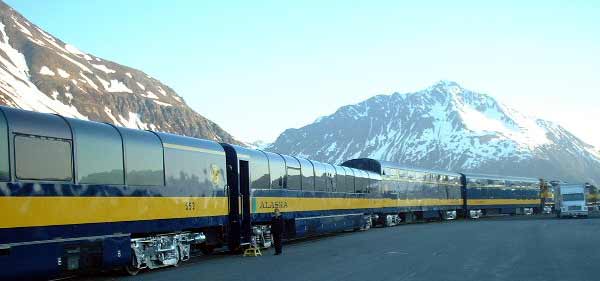 After going through a brief checkpoint, we were escorted to our awaiting railroad car. Seats are pre-assigned, 4 people to a table. We were seated with a nice couple from Canada, Bob and Carol, with whom we keep in touch. The seats were roomy and comfortable, with storage beneath for smaller carry-on luggage and other items.

The train takes about 5 hours to travel the 115 miles from Seward to Anchorage. Its course follows the highway at various times, but much of it traverses terrain not seen any other way.

Although pulled by the same Alaska Railroad locomotives, the different cruise and tour lines, and the Alaska Railroad itself, have their own cars. Our cars were completely glass-domed, affording a totally unobstructed view.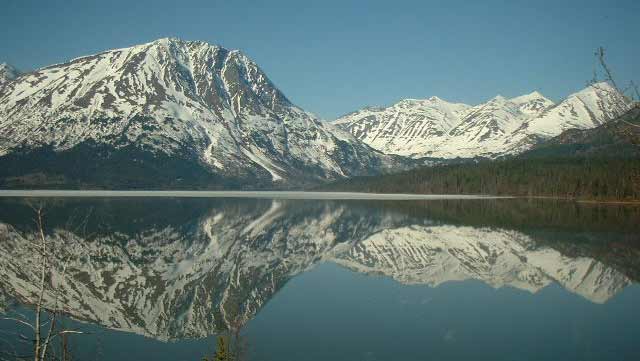 This was our first taste of Alaska "by land". We had seen great beauty from the ship, but it was just as entrancing from the train. One of my favorite memories is of a mountain and its reflection in the incredibly calm waters before it.

The train's tour guide offered everyone onboard a "Ride Guide". This book described the various points of interest by mile marker, including information about the various towns along the route, all the way up to Fairbanks. It also contained the history of the railroad.

For just $5.00 we could purchase the book, but the guide offered to rent us a book for just….. $5.00. After long, careful consideration, we decided to buy it. We had great fun following our route, milepost by milepost, tidbit by tidbit.

We saw our first moose of the trip. He was lying down near the tracks, and as we sped by I yelled "Moose!" and pointed (the tour guide had said this is a "requirement" of riding on the train -- yelling and pointing in the direction of any wildlife spotted so that others have a chance to get a peek).

I'm not sure if the cars ahead of us saw him, but we in the last car got a good look (but no photo, it was too quick).

We learned that about 1 out of every 6 Alaskans has a pilot's license. Makes sense, considering the vastness of the territory and how ground transportation is limited due to difficult terrain.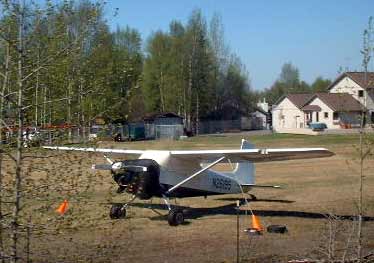 Many residents tie their planes down on airstrips paralleling the tracks here. It was strange seeing plane after plane through the thin row of trees as we skirted by.
We chugged through an area affected by the Great Quake of Good Friday, 1964. The waters had come rushing in, saturating the soil with salt, which killed all the plant life. Since then the land has been restoring itself, but a number of long-dead trees, far away but still visible from the train, have been left to stand as tribute to that day.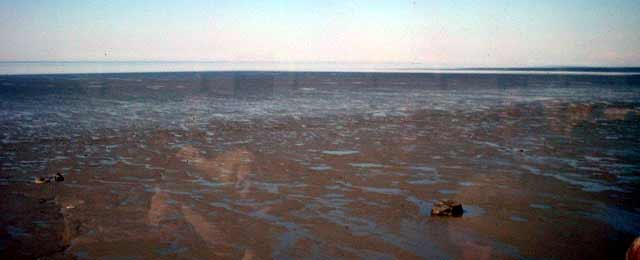 We also saw huge mud flats, created when the tide is out. Waders beware! These mud flats are dangerous, worse than quicksand. In quicksand you can float, in mudflats you can't, so stay out!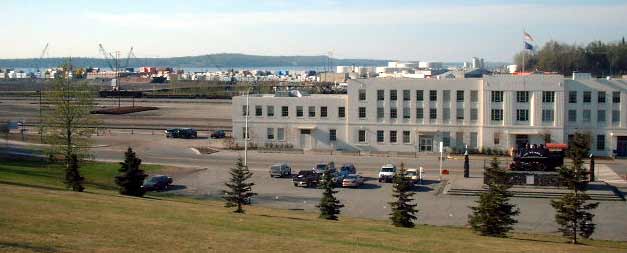 We arrived at the train depot in Anchorage about 1:00 p.m. Our cruise line swiftly transported us to their depot, where we found our luggage amongst others in one of the long neat rows. We grabbed our bags and a cab and headed to our hotel, ready to spend the next few days exploring Anchorage and its environs.


---
Top of Page


Part 1 of the Alaska Trip
Part 2 of the Alaska Trip
Part 3 of the Alaska Trip
Part 4 of the Alaska Trip
Part 5 of the Alaska Trip
Part 6 of the Alaska Trip
Back to Travel