Alaska Cruise - Part 6
Prince William Sound
and College Fiord
by Tom Mugridge
The sun was already well up in the sky when we arose on our last full day of cruising. We awoke to yet another day in a long string of beautiful weather, excited at the prospect of more grand Alaskan scenery, but sad with the thought that within 24 hours the cruise portion of our trip would be over.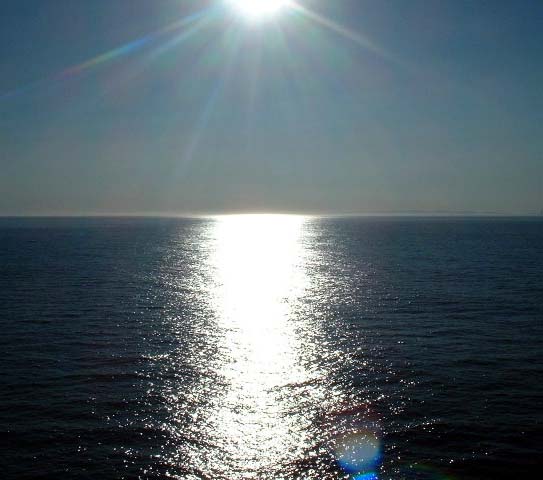 It would be after noon before we reached Prince William Sound, so we spent the time observing the mountainous shoreline many miles away, scouting for wildlife. Today's theme would be "sit-and-relax-watching-the-scenery roll-by-'cause-it's-the-last-day-of-the-cruise."

Since this was our last day on board, we decided it was finally time to play perhaps that all-time favorite game on cruise ships - shuffleboard. We felt we couldn't go home without having done so.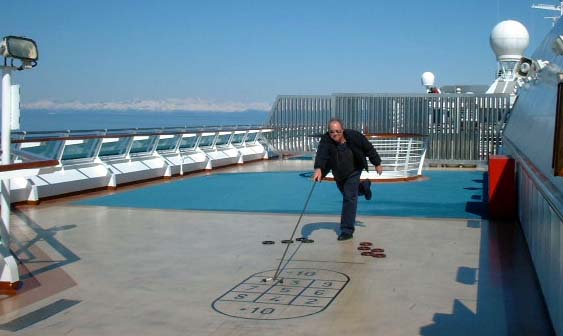 There was no one else around to challenge after we had played our practice game, which was too bad, because I felt I was in top form!

On the way in to the Sound, we passed another ship coming out. For environmental reasons, they have rules as to how many ships and boats can be in a bay at a time. For cruise ships, it was no more than 2.

There can be many smaller craft, though, but there's a limit on them, too. Besides being better for the environment, it also makes for more private views.
Also on our way in we were visited by the strangest thing - 2 hummingbirds! We couldn't believe it, as we were miles from shore. Thinking we were seeing things we asked the naturalist, who confirmed we had indeed seen hummingbirds. He agreed that they were quite a ways out from their usual habitat, but that they (obviously) can fly great distances. Of all the wildlife we had seen thus far, the hummingbirds were the most intriguing.
Oddly enough, we saw more glaciers at College Fiord than we did at Glacier Bay. In fact, at the furthest point of our trip, we saw 5 all at once: Yale, Harvard, Smith, Bryn Mawr and Vassar (right to left in the picture).

The glaciers were named by early explorers after their respective colleges, hence the name of College Fiord. Unlike at Glacier Bay, none of these glaciers was calving while we were there.
We left College Fiord around 6:00 p.m. and began the journey back to the Gulf of Alaska. We passed through the Perry Passage, Knight Island Passage and finally the Montegue Strait. A pair of humpback whales had apparently decided they would take our place in the fiord, as they spouted and slid by in the distance.
We would be arriving in Seward in 8 short hours. Although our cruise would soon end, our land adventures were about to begin!
---
---
Top of Page


Part 1 of the Alaska Trip
Part 2 of the Alaska Trip
Part 3 of the Alaska Trip
Part 4 of the Alaska Trip
Part 5 of the Alaska Trip
Back to Travel