Alaska Cruise - Part 5
Glacier Bay
by Tom Mugridge
Just 200 years ago the shorelines of Glacier Bay were covered with ice.
In 1794, explorer George Vancouver found Icy Strait (just outside what is now known as Glacier Bay) completely choked with ice, and Glacier Bay was barely an indented glacier. That glacier was more than 4000 feet thick, 20 or more miles wide, and extended over 100 miles up into the mountains.
However, by 1894 naturalist John Muir discovered that the glacier had retreated about 48 miles up the bay. By 1916 the glacier had retreated a total of 65 miles from the bay's mouth, to what is currently called Tarr Inlet. Such a quick retreat is known nowhere else.
As alarming as this seems, we were told that although many glaciers are retreating, many others are advancing. In fact, in Glacier Bay itself there are two glaciers on its west side that are advancing while others on its east and southwest sides are retreating.
Since many factors contribute to advance or retreat (snowfall rate, topography and climate trends), it's hard to put a finger on any one reason.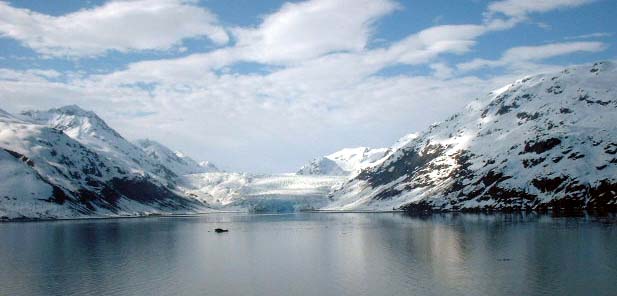 Naturalists have used this retreat to study the colonization of the area by animals and plants. Whales, harbor seals, porpoises, sea otters, brown and black bears, wolves, mountain goats and over 200 species of birds now make their home in Glacier Bay

While entering Glacier Bay, we spotted our first grizzly bear. He/she was but a small blondish brown dot rambling on the shoreline about a ½ mile distant. A still shot was impossible to take at that distance, so videotape had to do.

It was hard to hold still enough with the camera to catch a clear picture on high-magnification. Disappointed but happy to have spotted a grizzly none-the-less, we hoped we'd have more chances later for a closer encounter.

We were transfixed by the quiet beauty, and couldn't help but sit and stare at the shoreline and snow-crested crags silently slip by. As large as our ship was, carrying over 3,000 passengers and crew, we felt like a tiny white blip compared to our surroundings. We kept a watchful eye for more grizzlies, but weren't rewarded with any.

It was so beautiful and relaxing we didn't want to go inside, even to get something to eat. We decided to have a hamburger and hotdog from the outdoor grill. The clean, crispness of the air made our hotdog and hamburger taste better than any other we'd ever had.

We spent the entire day sitting and walking on deck, and only tore ourselves away because we had made early dinner reservations. But we were back on deck right afterwards.

The further up the Bay you go the better the weather usually is. The mountains and ice mass actually create a localized high-pressure system that deflects the clouds. May and June are usually the sunniest, making us glad we had chosen to go in May. The sky was clear and crisp but quite warm, warm enough for folks to sunbathe.

The first glacier we came across was Reid Glacier, a small glacier just before Johns Hopkins Inlet, home of the Johns Hopkins Glacier (what else?). Johns Hopkins Glacier is very active, sometimes producing icebergs 200 feet high.

Such large volumes of ice are calved that you can't approach within 2 miles of the glacier for safety reasons. I think that's why our cruise line decided that we would go to Margerie Glacier at the top of Tarr Inlet instead.

As we neared Margerie, hundreds of sea otters came to greet us. These playful fellows (and gals) swam about the boat, jumped up onto growlers (small icebergs), swam on their backs or jumped in the air. They must be used to visitors, as they showed little fear of the ship.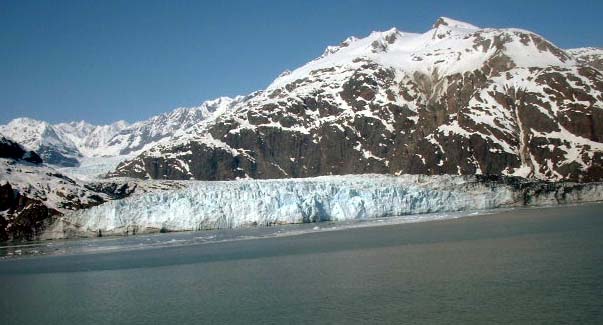 Margerie Glacier is a very actively-calving glacier as well. Loud snapping sounds like gunshots forewarned of something about to happen. Unfortunately, the calving has already begun by the time you hear the noise, so if you were filming (like I was) it was like someone hitting you and THEN saying "Look out."

We could also hear loud reports in the far distance, suggesting other glaciers in the bay were beginning to shed some of their winter coats.

I decided to keep the film rolling, determined to catch a calving from start to finish. 19 minutes later, and with nothing to show for it, I decided to rewind and start over. Guess what happened during the rewind.

In any event, I managed to capture a few various calving events. We left Margerie Glacier about 3:00 in the afternoon and headed back toward the bay's mouth. My diligence was rewarded on the way out - a pair of humpbacks came close enough for me to capture on videotape.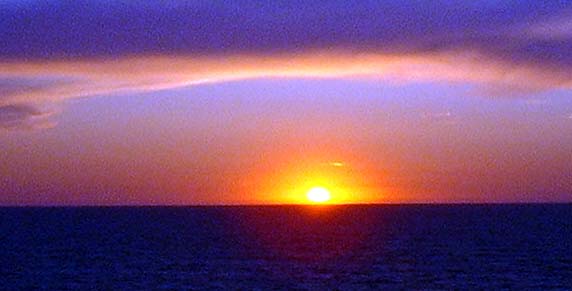 The sunset in the Gulf of Alaska that evening was one of the most stunning I've ever seen. The oranges, reds, pinks, blues and yellows melded together into colors found on no artist's palette.

Tomorrow would find us at College Fiord in Prince William Sound, and with our cruise nearing its end.



---
---
Top of Page


Part 1 of the Alaska Trip
Part 2 of the Alaska Trip
Part 3 of the Alaska Trip
Part 4 of the Alaska Trip
Back to Travel