Alaska Cruise - Part 3
Juneau
by Tom Mugridge
We arrived in Juneau about 7:00 a.m., 30 minutes ahead of schedule. Fortunately I was already up and about, so I could see our arrival in port.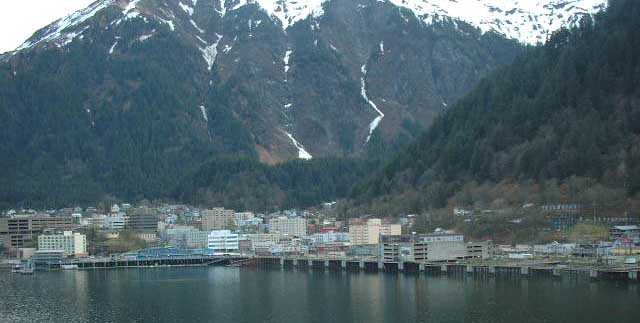 Juneau has the distinction of being the only capital you can't drive to (well, other than Honolulu, but at least you can drive to Honolulu from elsewhere in the state). The only way to get to Juneau is by air or sea, unless you want to hike the mountains.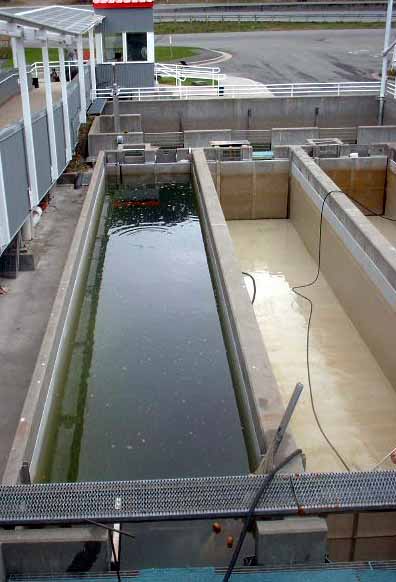 We had a 3-stop excursion planned for Juneau. Our ship didn't sail until 7:30 p.m., so we had plenty of time. First up on our bus tour was the Gastineau Salmon Hatchery, renamed now to the Macaulay Salmon Hatchery.
Here, over 100 million salmon are hatched and released yearly, and as such it is one of the major producers of salmon in the area. On the way in we passed a tank that, when questioned, our guide said contained 300,000 fry.
The pink and chum salmon fry are usually released in mid-May, depending on some crucial factors. One of these factors is whether or not the "plankton bloom" in the ocean waters is sufficient. The other is whether or not they're large enough - the bigger the better, for survival.
As a result, millions of salmon return to these waters, where they can be harvested. Inside their visitors area you can try samples of the different salmon types (an offer we couldn't pass up), and make a purchase if you're so inclined. We also looked at the aquariums containing over 100 species of southeast Alaska sea life, including one with a baby octopus.
From the hatchery we went to the Green Angel Gardens. Here we strolled through a diverse botanical micro-environment of Southeast Alaska, where specimens of just about every plant from the area are on display. Many have medicinal or other useful qualities.
For instance, willow is a source of salicin, a natural precursor to aspirin. The inner bark was also used to make ropes for binding and tying, and to construct nets.
One of the things I found particularly interesting was a boggy area we went through. Here were ferns, mosses, and my favorite -- tangles of trees and roots. It was like going back to the days of the dinosaurs. Silence and dank aromas permeated the air.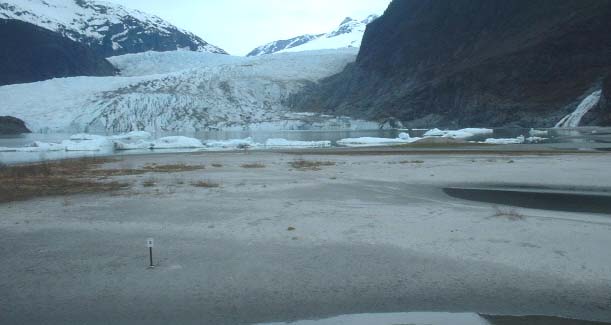 On to magnificent Mendenhall Glacier, ranked as the largest glacier accessible by road. This is probably why it's the most-visited glacier, too. 12 miles long, hundreds of feet thick, and 1½ miles wide at its widest, this river of compressed blue ice is quite impressive.

There are several trails you can take to view this frozen delight, including one that goes above it for a spectacular view of the glacier and the valley beyond.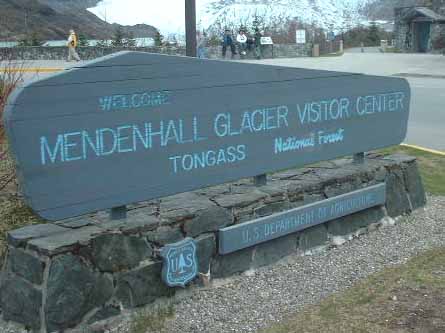 Time constraints prevented us from taking this trail, so we had to content ourselves with the ½ mile trail from the Visitor Center to get a good view from the front.

The glacier has receded over the millennia. At one time it was all the way to where the Visitor Center is now, and you can see some glacial grooves in the rocks along the trail to prove it.

Be sure to stop in the Visitor Center, too. It's chock-full of displays, plus you can catch a short film about the glacier. From the visitor center we were treated to a chance sighting of some Dall sheep on the mountainside, visible as only tiny white dots from that distance. A naturalist set up a spotting telescope, which brought them clearly into view.


After Mendenhall, our driver took us on a tour around town, including a visit to Douglas Island for a look at Juneau, and our ship, from across the harbor. Then, it was back to downtown Juneau.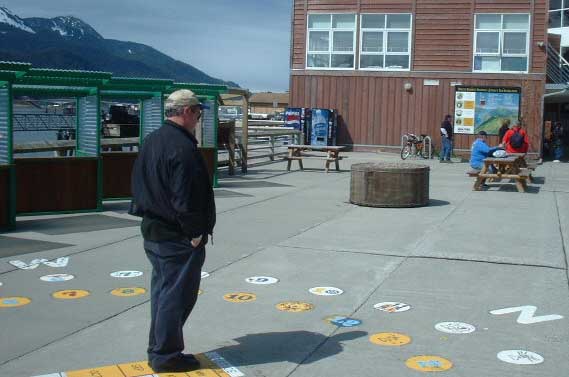 Believe it or not, we accomplished all of this by noon, having started at 8:30. We checked the time on the "human" sundial on the boardwalk (it was 12:30), and decided to wander the streets for a couple hours after having lunch on the waterfront (the tiny Alaskan clams we had for an appetizer were amazing).

We found the Juneau Public Library, which afforded me a chance to check my email. I had a great time sending messages to family back home. After all, how often can you send (or receive) email from Juneau! Pat was glad, looking at library books while I happily clicked away at the keyboard for 30 minutes.

We concluded our meandering at the Alaska State Museum on Whittier Street, just a short distance from the docks. The museum chronicles the state's history, and also preserves and presents Native Alaskan culture and art.

Also on display is a bald eagle nesting tree. Allow an hour if you can. Guided tours with a docent are available during summer months.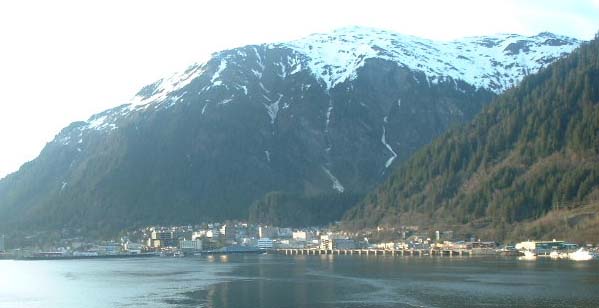 Reluctantly, we headed back to the ship just before sailing time. Tomorrow would find us in Skagway, famous for its role in the Gold Rush of 1898.

---
---
Top of Page


Part 1 of the Alaska Trip
Part 2 of the Alaska Trip
Back to Travel