Alaska Cruise - Part 2
Inside Passage
by Tom Mugridge
The Inside Passage
Our second day out was spent plying the southern waters of the Inside Passage toward our first port of call, Ketchikan.
This was a good day just to camp out on deck, relax, and watch the silent, serene beauty slide by. We also kept an eye out for wildlife, and at dinnertime we were rewarded with dozens of sea lions sunning themselves on the rocky shore.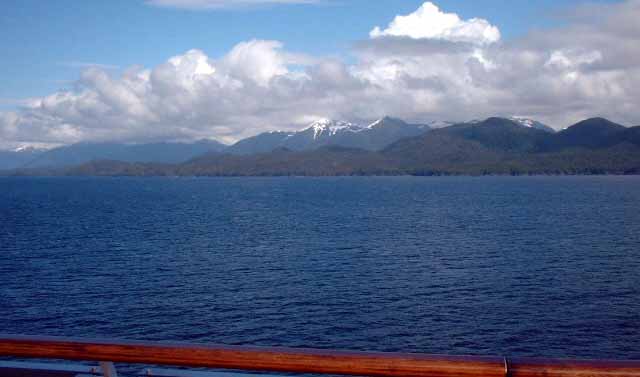 At times the shore is incredibly close -- sometimes it seems to be only a few hundred feet away, which can be unnerving. One forgets that these waters are not rivers, but valleys carved by glaciers long ago. They are hundreds of feet deep, and in some places 1,000 feet, all of which is quite enough to float a large boat.

We were traveling in early May, and the long hours of light urged me to stay on deck until very late. It seemed wrong to go sleep while it was still light out, and I didn't want to miss a minute.

Since it got light again by 4:30 a.m., I usually arose by 5:30 to begin my sightseeing anew. Tired, but anew. I figured I can sleep later, but I can't see Alaska later.


So, every evening was spent wandering the decks until around midnight. The way the late night sun slanted over the mountains and clouds gave the mountaintops an almost phosphorescent glow, a glow I knew my camera could not do justice to. I resigned myself to forgo taking pictures, knowing the camera would never capture what the human eye can.

As a gift, our travel agent had arranged for us to receive a "cruise companion" book that served as an excellent guide to particular points of interest and the names of places along the way. Written by a gentleman who had sailed these waters many times, it also contained anecdotal historical accounts that gave a flavor for Alaska's inner waters and native heritage.

Our ship's daily newsletter listed what mileage we would be cruising that day, and the cruise director would often announce more exact mile markers for passengers who were following along in the guide.

If your cruise line offers a book of this type, it's worth getting. Our copy not only told of the inside passage but all the way up to Fairbanks and beyond, so it was very helpful on our land excursions later on in the trip as well.

Ketchikan

We arrived in Ketchikan overnight, awakening to a bustling dock right outside our window.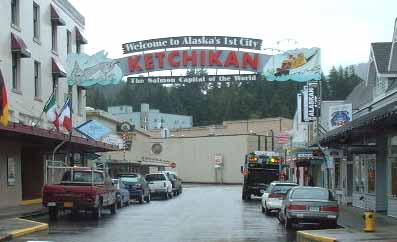 It was drizzling very lightly, something not too unusual in Ketchikan. After all, they average about 160 inches of rain a year.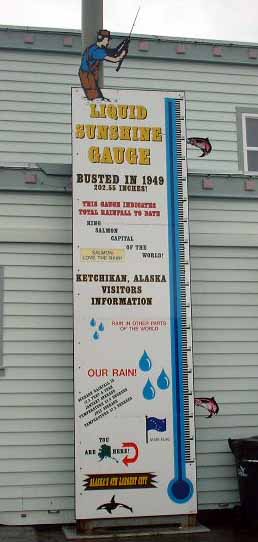 They're proud of this fact, and have a "liquid sunshine "gauge prominently displayed near the dock to keep track. Fortunately for us, it stopped drizzling in mid-morning, and the rest of the day was dry.
We chose to take the shore excursions offered by our cruise line. We felt this would make the most of our time on land, and if there was a problem somewhere, the cruise line would do everything possible to get us back to the ship on time. You can also find tour companies by the docks and sign up, as well as taxis to take you around if you prefer to be on your own.
Our first adventure was an hour-long horse-drawn trolley tour of the town. At one point, as our tour guide was giving us an historical account of the town, we passed a baseball diamond, which notably lacked any grass. We asked him why, and also joked that they must call a lot of games on account of rain.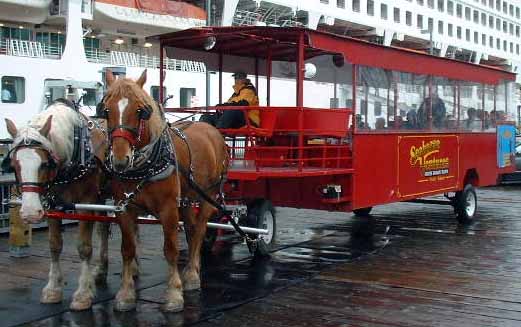 He replied that they couldn't get grass to grow due to the type of weather they have and the rocky soil so they gave up trying, and that they actually call games on account of sun! Nobody wants to waste good weather playing baseball, so if it rains they play ball and if it's sunny they spend the time on family get-togethers.

Our second adventure was a bus tour of the outer portions of town on our way to visit Totem Bight, which contained a large totem pole display. On the walk from the bus to the display, which took us through a beautiful rainforest, we passed a bear den - an old uprooted tree.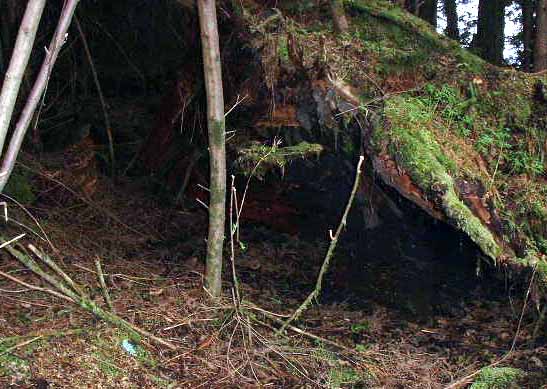 Fortunately it was no longer being used, so we didn't have to worry about running from the resident.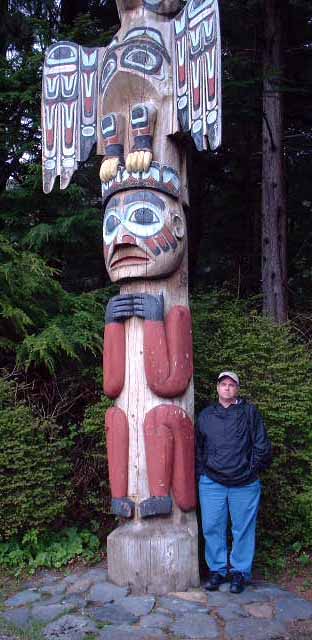 Our guide explained many of the totems' significance, and the stories they portrayed. There was also a clan house, built by the Alaskan natives to provide shelter during their fishing expeditions to the area. As large as it was, it would house several families at one time.
At the bight we were also treated to several eagles flying high overhead and out over the water. None of them came close enough to pose for a picture, so I didn't get any good shots. There was one that swooped about 30 feet above me just as I was changing batteries in my camera, but he (she?) disappeared into the top of a huge tree before I could complete the task and snap a shot.
If you want to be sure to see eagles, Ketchikan is the place. Ketchikan is the "eagle capital", having about 70% of all the bald eagles in the country. Late summer, when the salmon are running, is the best time to see these noble creatures in action.
As we returned to town on the bus, they were perched on the tops of almost every building along the road. Naturally, the buildings were on the side of the bus I wasn't, so you'll have to use your imagination.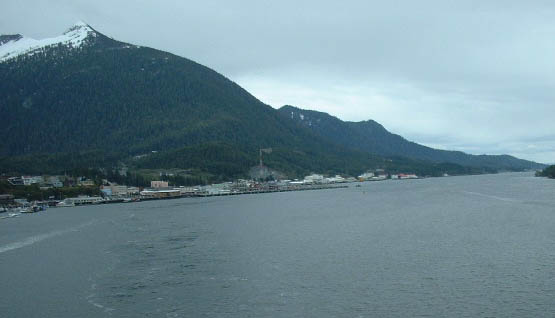 We left Ketchikan in mid-afternoon, to wend our way through more of the inside passage on our way to Juneau. We would arrive the following morning, bright and early, ready for another adventure or two.

---
---
Top of Page


Part 1 of the Alaska Trip
Back to Travel