Alaska Cruise - Part 13
From Seward to Anchorage,
and Home
by Tom Mugridge
We left our hotel room by 8:30 a.m., all packed and ready to head back up to Anchorage. We decided to drive through Seward before leaving to take one last look at Resurrection Bay.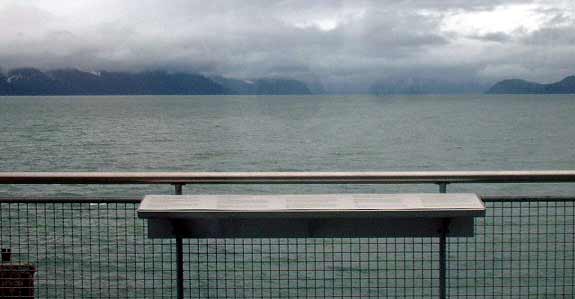 The day before had been Memorial Day, and flags still draped many of the buildings. We had plenty of time, as the drive to Anchorage is only about 3 hours.
We decided to stop at a couple of places on our way back, to take full advantage of what time we had left. First on our list was Portage Glacier, a good 80 miles north of Seward, where we first stopped in the Begich-Boggs Visitor Center to learn about what we would see.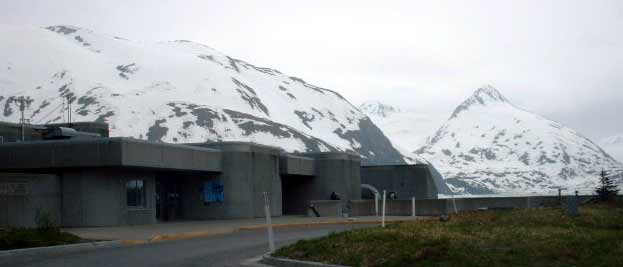 Following a short presentation by one of the park rangers, the curtains behind him opened up to reveal a spectacular view of Portage Glacier Lake. You'll notice I said the Lake, not Portage Glacier. Portage Glacier is no longer visible from the Visitor Center, having receded around the corner.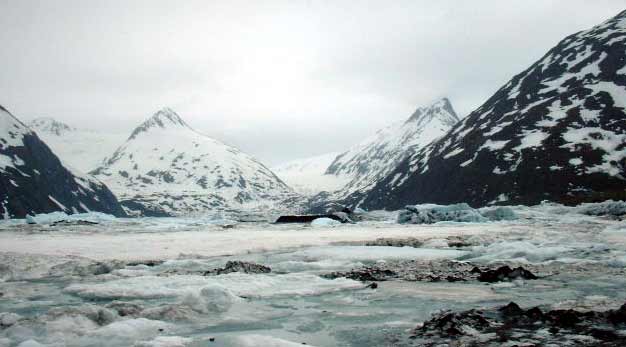 In summer, when the lake is melted, they have boats that take you on a cruise to see it. What we were looking at was Burns' Glacier, but it was a glacier, and we were quite happy with that.
We toured the visitor center's many exhibits before heading outside for a closer look. The lake was full of huge chinks of blue ice, a spectacular sight. There are paths you can take if you want a closer look.
It began to drizzle lightly, so we decided to press on. But we were glad to have stopped here, and would say it's a must-see if you have even just an hour or so when in the area.
Next stop was Girdwood, an ex-mining town, now home of the first-class Alyeska Ski Resort, a well-visited area in winter.


The slopes had closed the weekend before, so there was nobody shooshing downhill. It's probably a good thing they had closed, as there was only snow on the upper half of the slopes, of which there were 43 to choose from.
We took the tramway all 2,300 feet to the top. The tram ride was exciting in itself, as it shook and swayed a little. This seemed to bother most of the occupants. It didn't bother me that much, as I was the one making it sway a little bit.
Anyway, the view from the pinnacle was spectacular, and we enjoyed a nice lunch overlooking the valley below. In the distance was Turnagain Arm, so-named because, in 1778, as Captain James Cook was searching for a Northwest Passage, he had hit another dead end, and said they were forced to "turn again".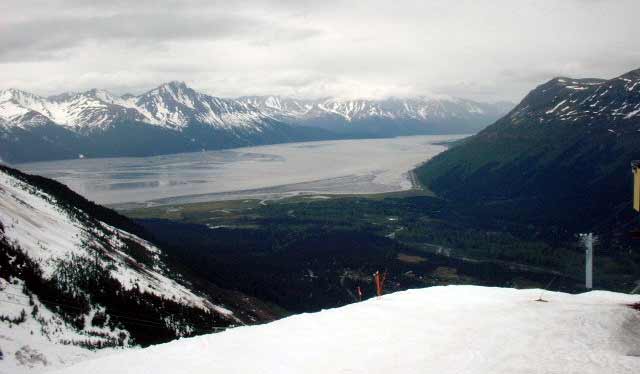 When purchasing your tram ticket you have the option to prepay for a lunch option, which we did. This is less expensive than deciding once you're up there to buy something to eat, although the regular menu is a little broader than the prepaid option menu. We were quite content with our sandwich, chips and soda at the snack bar. You can also dine at the exclusive Seven Glaciers Restaurant, accessible only via the tram. Reservations are suggested, and attire is dressy casual.
The tram ride down was uneventful (no swaying this time), and we worked our way back to our car. We were treated to a moose in the parking lot, merely feet away. We didn't approach so as not to scare her.
She was trying to step over a line that separated the parking spaces in the lot and making this grunting noise, for reasons unknown until we heard some rustling in the nearby woods. Out came a young moose, and soon Momma and child were rejoined. We shot mostly video, but got a snapshot or two of the happy couple.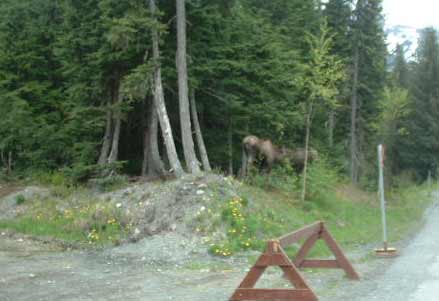 There were a few small shops on the way back to the main road. We stopped in one that sells candles shaped liked animals. This may not sound so remarkable until you learn that they were made from seal oil, and this shop is about the only one you can get this type of candle.
Only native Alaskans are allowed to harvest the seal oil, in the traditional way they have for centuries. The proprietor told us that seal oil candles burn long and smoke-free, highly desirable if you're forced to spend long winter months inside.
Just outside Anchorage we were surprised by a rare event - a Dall sheep right along the main road. Somehow he had strayed from the mountains, and was on a ledge just above the highway. People began stopping at the pullover, and some, like we, actually turned around to pull over and grab our cameras. This must have been a rare occurrence indeed, as a police officer also turned around and stopped to get a gander.
The sheep seemed unafraid, being only 30 feet from the road, and unafraid of all the picture-takers approaching quite closely. He actually seemed to pose for the cameras. I named him Ham. His was the last picture I took in Alaska.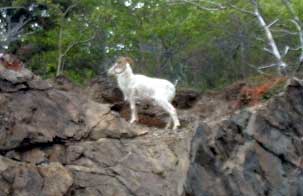 The remainder of our day's journey was short. We pulled into the hotel parking lot, dumped our luggage in the room, and headed for the shopping areas to do some last minute souvenir-gathering and have our last dinner in this great state.
Upon return to our room, we re-packed our luggage to have only the essentials in our carry-on bags. Our flight was leaving at 5:30 in the morning, so we had to arise at 2:30 to get to the airport in time, drop off the rental car, and go through security.
We would be whisked away from this Alaskan wonderland. It was hard to believe that just 16 days earlier we had started our adventure in Vancouver - it seemed like ages had passed.
Epilogue
Our fantastic adventure had drawn to a close. In less than 9 hours after our plane left Anchorage we found ourselves back in Cleveland.
Looking back, it was the most fabulous trip we have ever taken. From start to finish, everything had gone off without a single glitch. In fact, we did more than we thought we could because things had gone so well. A long year of careful planning had paid off richly.
We had seen the beautiful city of Vancouver, spent 7 days on a "floating city" cruising, dining and sightseeing Alaska's Inside Passage, Glacier Bay and College Fiord. We traveled hundreds of miles on the Alaska Railroad, gazed upon the tallest peak in North America, saw animals by the dozens, the Kenai Peninsula, and glaciers galore. How much more could be packed into 2 ½ weeks I don't know.
But now, we were back home, with memories of a beautiful far off land. Our expedition of a lifetime had been almost dreamlike -- it still is.
---
Top of Page


Back to Travel