Alaska Cruise - Part 12
Seward
by Tom Mugridge
We took Route 1 (the only highway) back from Homer, planning to connect at Route 9 near Moose Pass, and head south into Seward.
We stopped at a couple scenic overlooks, and enjoyed another moose encounter just outside Ninilchik. Quietly grazing alongside the road, she seemed unfazed by the cars and trucks zipping past. We figured she was a local, and accustomed to such activity.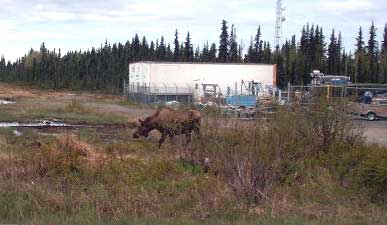 We made it to Seward by early afternoon, quite hungry after 5 hours on the road. We found ourselves at a waterside restaurant, enjoying more of those cultured Alaskan oysters, and some salmon cooked on cedar planks. Scrumptious.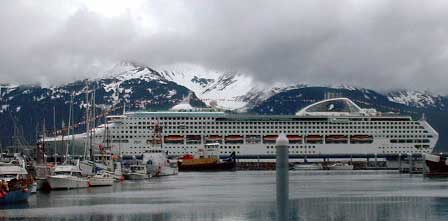 We peered through the window as we ate, looking at the cruise ship in the harbor that would be leaving for Vancouver that evening, and wishing we were going along for the ride.

Key on our to-do list was a visit to the Alaska Sea Life Center, so we spent the rest of the afternoon there.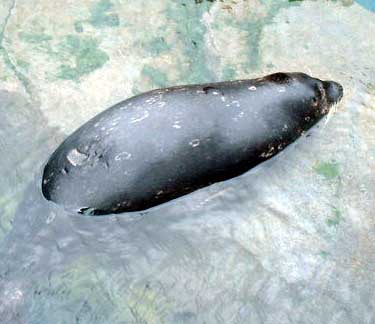 Incorporated in 1990, the Center was financed in part with monies from the Exxon Corporation, and was completed in 1998. The Center is a premier research, rehabilitation and education facility.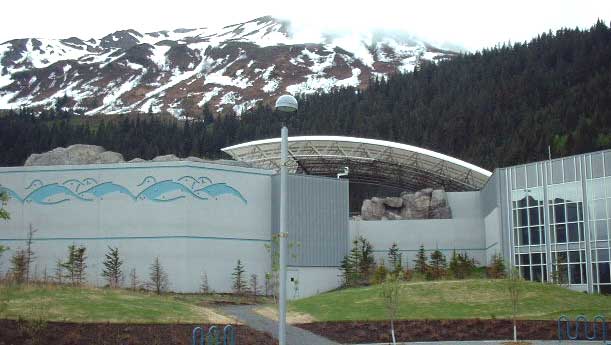 In but an hour or two you can enjoy the entire experience, and linger at any of the over 20 exhibits as long as you like. We sat and watched a live broadcast of a stellar sea lion rookery on Chiswell Island, 35 miles south of Seward. The Discovery Pool found us handling starfish and other small sealife (yes, you're allowed to). The apparently camera-shy Stellar sea lion put on a show whenever I WASN'T videotaping, as did a harbor seal nearby, who must have eaten Boston baked beans for lunch (use your imagination!).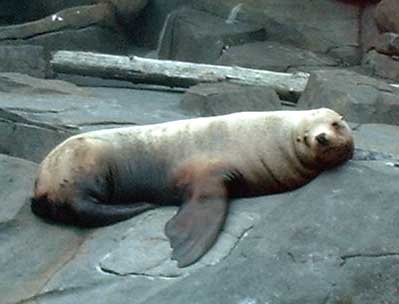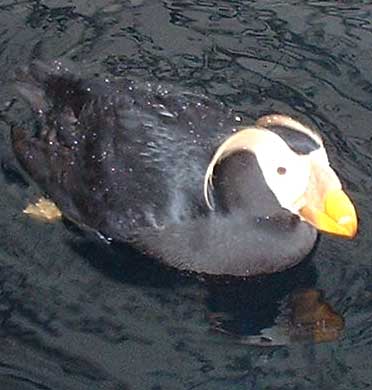 Perhaps the most active exhibit was the puffins. These strange-looking creatures flitted, flew and dived about constantly. They are skilled fishers, and actually "fly" underwater to catch their prey. They spend most of the year at sea, returning to land only to breed and raise their young. Their call is a squawking noise -- to me it sounded like Donald Duck with a head cold.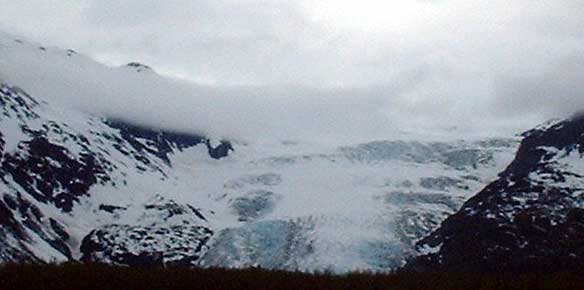 Following dinner (yes, we had more oysters, and at the same restaurant we had lunch!), it was time for a visit to Exit Glacier, about 6 miles north of Seward. Although it was mid-evening, there was still plenty of light, and plenty of time. Pat decided to allow me to explore on my own while she caught up on some reading. Cameras in tow, I headed out for the Glacier.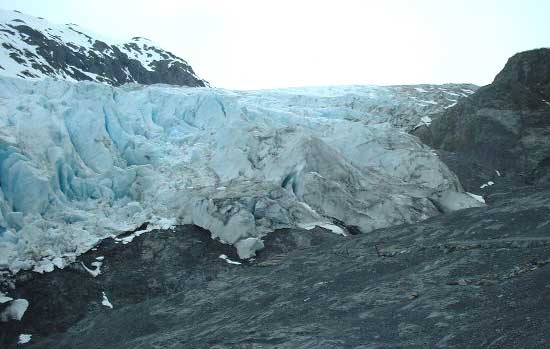 Along the way some hikers were coming back. They told me a black bear had been spotted near the Glacier, and suggested that I make plenty of noise so as not to surprise any of our ursine buddies. I walked along whistling loudly, more excited than ever now that I thought I might have the chance to see a bear up close.

Sure enough, there was a large black bear up on the hillside, about 1,000 feet away. 1,000 feet sounds like a long way, but it really isn't when you think about it, especially when there's a big black bear only that far away from you. At this distance he was a small black dot, but he could become a large black dot quite quickly, if you know what I mean.

Fortunately, black bears are mostly vegetarians, so I felt I was fairly safe. He was happily knocking over small trees and eating the foliage, and showed no interest in me as I videotaped him.

There were a couple people nearby to share the experience with. I sized them up to see if I thought I could run faster than either of them, should our bear buddy decide he wanted a closer look at us (I decided I could).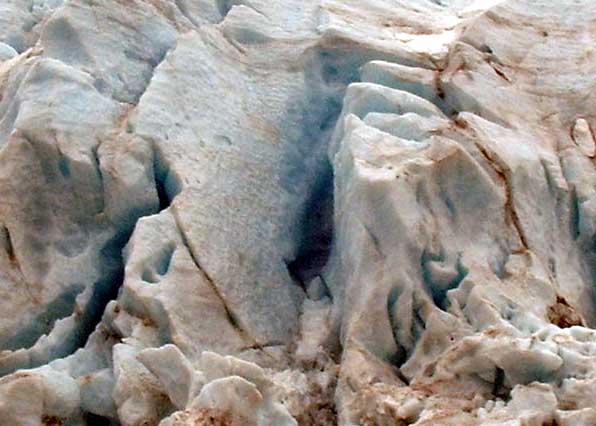 The glacier itself was fascinating. You can walk right up to it if you like, although that can be dangerous if a large chunk decides to fall off at that exact moment. I was content with viewing it from several different angles, enjoying the deepness of the blue colorations.

The blue color is the result of high compression. As snow collects on a glacier, more and more downward pressure is applied. As a result, the ice becomes much denser and it reflects light differently, in the blue part of the color spectrum.

Due to its high density, blue ice melts very slowly, and some of the locals use it for their coolers. Someone told us it lasts a long time, up to a week sometimes.

It was getting late, so we decided it was time to head back to our hotel and relax for what remained of the evening. Tomorrow would be our last day in Alaska, and we would spend it exploring our way back up to Anchorage.



---
Top of Page


Back to Travel