Alaska Cruise - Part 10
Back to Anchorage
And On To Homer
by Tom Mugridge
The train picked us up at about 12:30 p.m. to deliver us back to our point of origin, Anchorage. Since the train retraced the same route, the scenery was the same, but just as splendid. Of course, we got quite a few more views of Mt. McKinley, standing out even more clearly against the bluer skies we had on the trip back to Anchorage.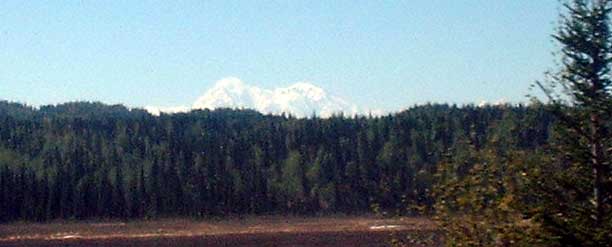 One of the highlights of the return trip occurred during dinner. We were again enjoying the local cuisine with more newfound friends, Paula and Mike from California (whom we keep in touch with), when someone shouted "Moose!"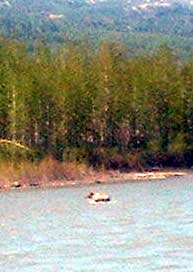 I leaped up from the dinner table, almost spilling my beverage, and ran to the back of the car. I was rewarded, along with others who had similarly arrived, with a moose fording the river, stopping to pose in profile midway across for us photo-takers.

The remainder of the trip was pretty quiet. We sat enjoying the scenery slide by as the train clacked along on its rails, occasionally going to chat with the various couples we had met on the trip, being sure to exchange emails and such. We arrived in Anchorage around 8:30 p.m., shared a shuttle back to our various hotels, saying goodbye to our Alaska-found friends.
We had rented a car for our drive to the Kenai Peninsula, which included visits to Homer, Seward, and points between. We arose early the next morning (can't say before dawn, because dawn was about 4:30 a.m.!), prepared for the 6 hours of coastal driving to get to Homer.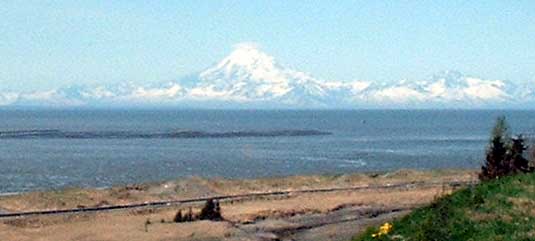 We had decided to visit the town of Kenai on the way to Homer, but we made a few stops beforehand, one to get a good look at Mount Redoubt, and another at Kenai Lake. Mount Redoubt is a stratovolcano about 100 miles southwest of Anchorage, in the Clark Lake National Park. It erupted in December of 1989, spewing a column of ash and gas more than 6 miles high. The day we were there it looked so serene you would never have known that had happened.

One of the most beautiful photos I took was at Kenai Lake. While rounding a bend on the highway, we spotted what appeared to be smoke up ahead. It turned out to be fog, and when we pulled over at the lake, the sun was backlighting it so beautifully it was haunting. This picture is one of my favorites from the trip.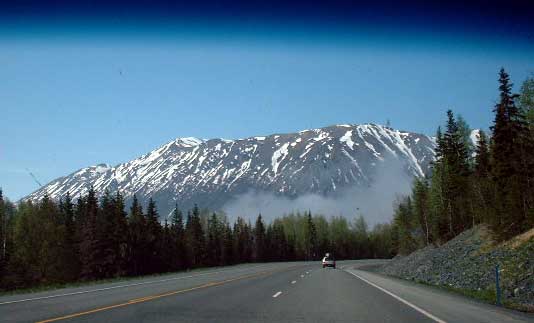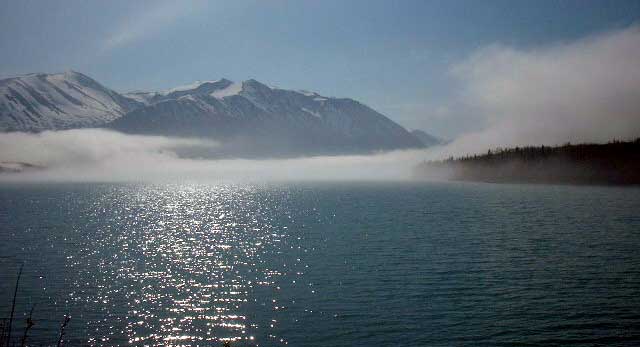 We pulled into Kenai around noon. Located on the northern edge of the peninsula, Kenai was established as a fort by Russian fur traders back in the late 1700's, and as such is one of the oldest settlements in Alaska.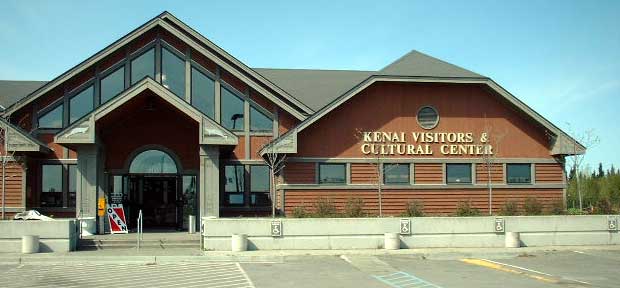 We stopped at the Kenai Visitor and Cultural Center, where we enjoyed displays on Kenai's history and culture. There was also a special exhibit of paintings and other works of art, mostly by native artisans.

Just before dinnertime, we arrived in Homer. We quickly checked into our hotel and headed for Homer Spit, "land's end." It was mostly cloudy, but the sunshine that managed to sneak through the clouds cast some of the most incredible blues we've ever seen. It must have been something about the water and the mountains surrounding Kachemak Bay, reflecting the light.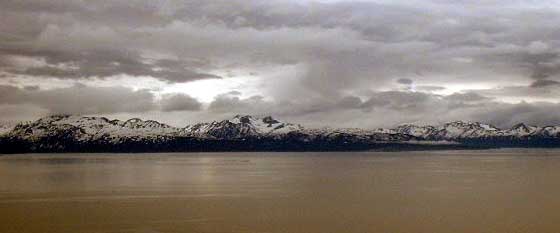 We ate dinner at a bayside restaurant, watching the halibut boats returning from their day's run.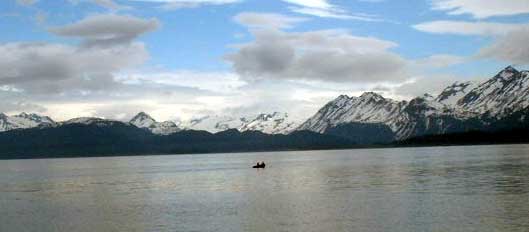 Appropriately, we tried the halibut (which was excellent, of course), along with some Kachemak Bay oysters on the half shell and some caribou. Surprisingly, we learned that oysters are not native to the area, but the conditions are perfect for cultivating them, so they do. We were very glad they did!

Following dinner, we walked up and down the spit, snooped around in various shops, and watched the lucky fishermen (and women) clean their catches. After making a couple souvenir purchases, we decided we would do a little sightseeing by car.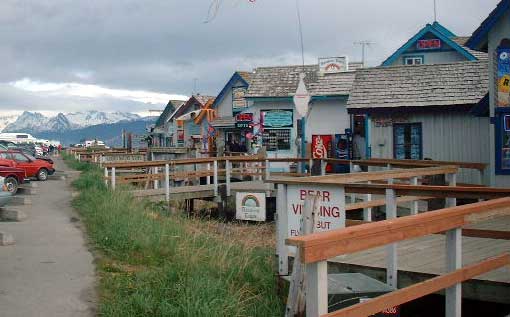 While cruising around, we noticed a large brown object in a parking lot on our left. It didn't have sharp teeth and big claws - it had antlers.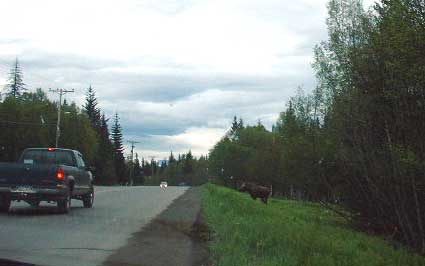 It was our first moose encounter of the up-close kind. Bullwinkle (as we dubbed him) seemed relatively unafraid as he calmly grazed at the side of the road. It was only when he attempted to cross the road that he seemed a bit nervous, but the locals are used to seeing moose on the loose, and they all slow down to wait for them to pass. We followed him around a bit, keeping our distance in the car so as not to frighten him.

The next morning we made one last visit to the spit before leaving for Seward. The tide was out, so I took one last picture -- a panorama from the tip of the spit. Although it was still a little cloudy, it is clear in our minds that Homer Spit is one of the most beautiful places we have ever been.

---
Top of Page


Back to Travel