Alaska Cruise - Part 1
Vancouver
by Tom Mugridge
A few years ago my wife and I decided we would go to Alaska in 2002. Planning spanned 2 years, with the most activity in the final 8-9 months before our trip.
We hit every website about Alaska we could find, seeking every tidbit of information we could garner. We had first planned to go in September, but then we thought "Why wait?!", so we decided to go in early May on one of the first cruises available.
Our journey began with a 7-day cruise from Vancouver to Seward, followed by a trip on the Alaska Railroad to Anchorage, a few days in Anchorage, another railroad trip to Denali Park and back, and ended with a driving tour on the Kenai peninsula.
This series will chronicle our adventures in the various ports of call on the cruise, and cities and activities on the mainland.
We began our travels in Vancouver. Having arrived at 11:30 p.m. on a Saturday, and with our cruise leaving the following Monday afternoon, we only had one day to explore this beautiful city. We decided we would take one of the tour busses to see the highlights.
We found that there are several different tour companies, they're all comparably-priced, and they visit mainly the same places with just a few alterations, so choose by how their schedule fits yours, or if one goes to a place of particular interest to you that the others don't.
The company we chose took us to several places, our favorites being Stanley Park, Queen Elizabeth Park, and the Harbour Centre Building.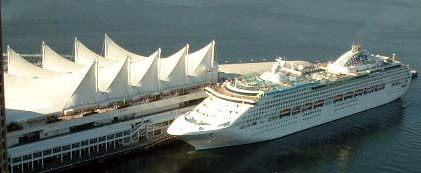 We took the outside, glass-wall elevator to the top of the Harbour Centre Building, to be rewarded with a stunningly spectacular panoramic view of the city and surroundings. Normally there is a $9.00 (Canadian) fee to go to the top - this was included in our tour company's fare.

The city itself is a gem, with certainly more things to do than can be done in one day. Nature lovers will find the streets beautifully manicured, where trees and flowers abound.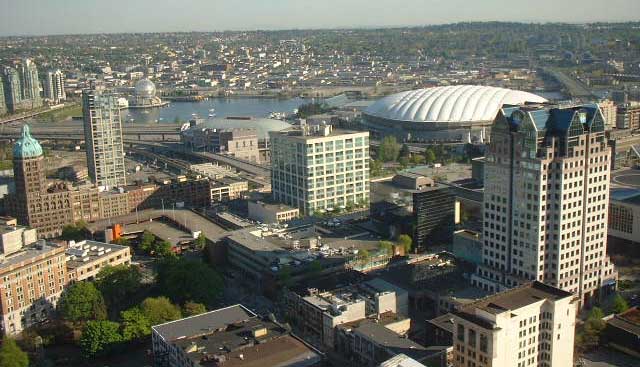 Although we didn't have time to visit it, the VanDusen Botanical Garden has an outstanding collection of plants that are arranged to show their geographic origins and how they relate to each other botanically. There are other botanical gardens and parks, and plenty of museums.

Stanley Park is one of the best natural parks around. You can do some lawn bowling, ride a bike on some (or all) of its 50 miles of trails and roads, visit the children's farmyard, or take a ride on the miniature steam railway. There is also a rose garden, and a display of totem poles.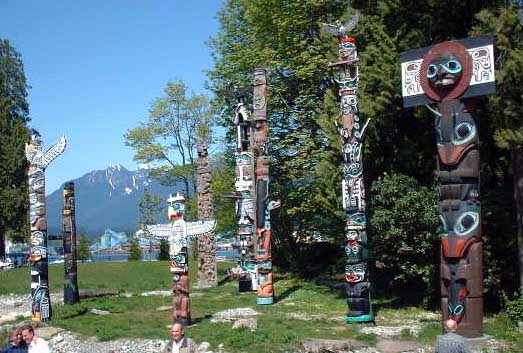 We were lucky enough to catch a glimpse of a cricket match as our tour bus rolled by. Lion's Gate Bridge, which spans the only exit from the harbor (Burrard Inlet), is also visible from here. You go under this bridge when you cruise to or from Vancouver.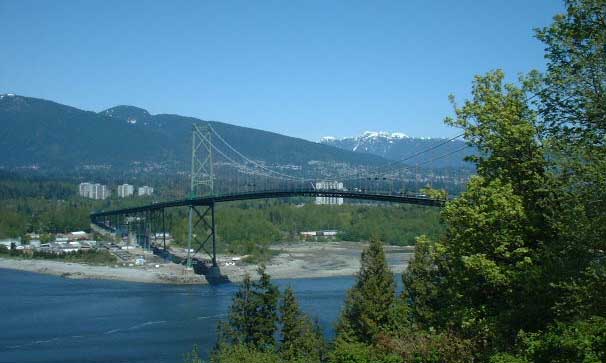 Queen Elizabeth Park, at 492 feet, is the highest natural elevation in Vancouver.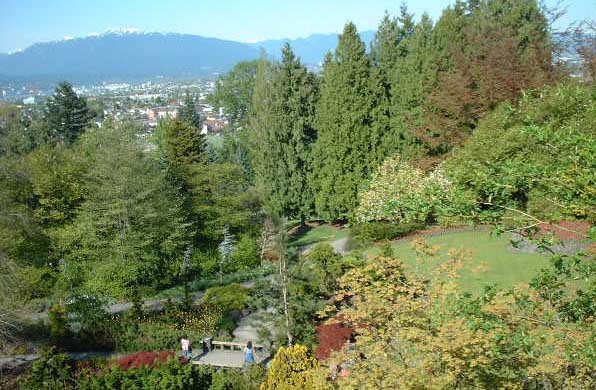 From here you'll get fantastic views of the harbor, the city, and the North Shore Mountains. While at this park, be sure to visit its arboretum, and the rose, sunken, and quarry gardens.

The observation deck at the Harbour Centre building is one of the city's top attractions. Acrophobes beware! From 553 feet aloft, you get the best views around, including of the cruise ship berths. You also get a good look at the city as you ascend/descend via one of their glass elevators.

If you have time, catch the show in their large-screen theater that introduces visitors to Vancouver and British Columbia.

We said goodbye to Vancouver when we boarded our ship on Monday afternoon. As we left port, we were brimming with excited anticipation of the journey that was just beginning. The setting of the sun on our first night at sea was just a taste of the spectacular sights we would be treated with the rest of our trip.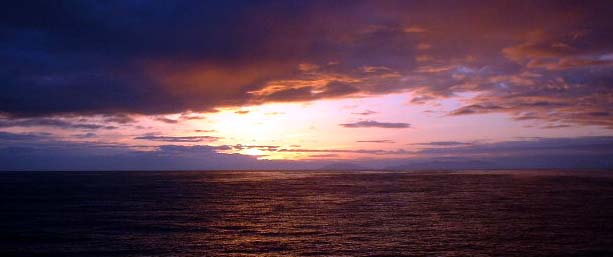 Next up: our first day of cruising, and Ketchikan, Alaska.
---
---
Top of Page


Part 2 - Ketchikan
Back to Travel