Henry Winkler
The Most Wonderful Time of the Year
Five-time Emmy nominee and Golden Globe winner Henry Winkler stars, with Brooke Burns and Warren Christie, in 'The Most Wonderful Time of the Year,' a Hallmark Channel original movie premiering December 13, 2008.
They aren't exactly the three wise men, but a snowbound stranger, a crafty uncle and a precocious boy may just have what it takes to remind one crazed woman what the holiday season is all about.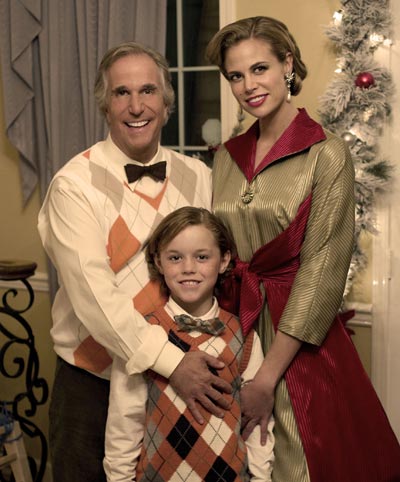 Jennifer Cullen (Burns) is a single, working mom who has become somewhat of a Scrooge when it comes to the Holiday season. Even her six-year-old son Brian (Connor Levins,"Eight Below") is having trouble believing in Santa Claus.

When Jen's Uncle Ralph (Winkler), a retired police officer, comes to visit for Christmas, he brings along a new friend, a nomad and Jack-of-all-trades named Morgan Derby (Christie). You can guess the rest.

<

img src="http://www.greatlakesgeek.com/images/henry-winkler-hallmark/halmark-scene.jpg" width="400" height="306" border="0" alt="Henry Winkler, Brooke Burns in Hallmark Christmas special">

Even those too young to have seen Happy Days before re-runs, know The Fonz. He is a television icon and a bigger than life character.

While the actor who played the Fonz, Henry Winkler, has gone on to win 5 Emmy Awards and a Golden Globe he has also written 15 children's books, acted in movies, television and life theater and produced and directed countless shows.

In a recent telephone interview, Henry Winkler talked about his life and the upcoming Hallmark original movie. Here is what he had to say on many different subjects.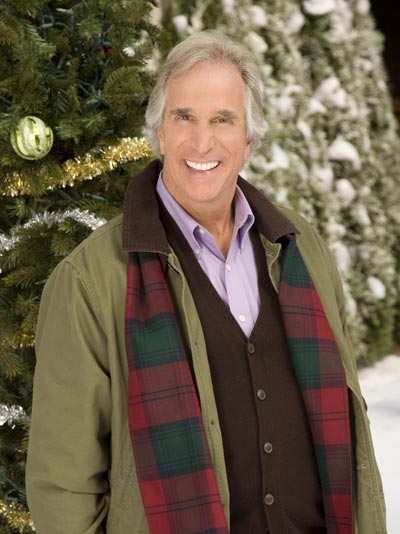 On his new Hallmark movie, The Most Wonderful Time of the Year:
The Most Wonderful Time of the Year will premier on The Hallmark Chanel on December 13 at 9 p.m.
This is exactly the kind of movie you want to watch over the holidays. It will not be confused with a thriller or a deep thinking forensic who-done-it. It is heart felt and sincere, as is Henry Winkler himself.
This movie was finished in just 15 days. He credits director Michael Scott and his crew with getting it done in such a short time and producing such a quality product.
Henry will not be able to watch the movie with his family - he will be in England playing Captain Hook in a stage production of Peter Pan. He is hoping they all watch and let him know their reactions.
On celebrating Christmas:
Winkler himself did not celebrate Christmas as a child, but rather Hanukah. But of course, there were times when he looked around and thought how much fun everyone was having and wished he could be part of it.
His parents escaped Nazi Germany so he knew he would never be celebrating, even the secular parts, of Christmas at home in New York. But now, in Los Angeles he has a pine garland going down his staircase. He recalls doing The Night Before Christmas with the Los Angeles Philharmonic and what a breathtaking event that was.
"The truth of the matter is we are all alive on this earth and we are the same. Winkler says it doesn't matter what we do or where we come from or what our religious beliefs are. At the core of our emotionality you can absolutely identify and emphasize with the glorious and uplifting emotions people have about the holidays."
Winkler acknowledges that there are considerations during the holidays that can cause stress, including financial and emotional. The movie helps teach people, in a gentle way, how to relax and enjoy living
On some personal favorites:
Henry's all time favorite James Bond is Sean Connery. He even went to an MGM studio where Connery was filming just to shake his hand. "I couldn't believe I got to meet him.," says Winkler.
He cannot pin down an all time favorite movie but was able to list his top three: The Great Escape,
with Steve McQueen, The Godfather
and the Brazilian movie, City of God.
Of the last movie, he cautions the viewer to watch it around 11:00 in the morning because you will need the rest of the day to absorb it.
His current television favorites include Prison Break, 24, The Closer and 30 Rock.
He is a Dodgers fan, but rooted for the Phillies in the World Series because "[I] sat next to Phillies owner at last game of Dodger season - they were all in red and very cute."
On choosing parts:
"I choose my parts by my stomach," he says and goes on to say whenever he veers from that method "disastrous things" happen. He does not judge parts on whether or not they are "wholesome" but rather whether or not his stomach says it is a good part. The only genre of movie he will not do is horror. "I can't watch horror films - so if I can't watch them I can't do them."
On his achievements:
With the exception of his three children (who he describes as "unbelievably rude but very good people") the achievement that makes him proudest is his series of children's books, Hank Zipzer Worlds Best [Greatest] Underachiever. The 15th in the series is about to be released.
Winkler himself is dyslexic, and the books are based o n his life. "They are my life. It's the school I went to, the apartment I grew up in… The worst teacher on the planet. I raised my hand to go to the bathroom. I'm still waiting for her to call on me."
On marriage:
Henry Winkler has been married for thirty years - a tremendous accomplishment for anyone, never mind a Hollywood celebrity. He has discovered the following: "The center of a marriage is not the heart it is not the mind it is the ear; it is the listening.
It doesn't matter how you meant what you were saying. It matters how it lands and it always lands somewhat differently than you were sure you meant it and it is will. You want to be married to your partner for as long as you are on this earth."
On The Fonz:
Regardless of whatever else he has accomplished, or will accomplish Henry Winkler will always first be thought of as The Fonz, from The Happy Days sitcom.
He is honored to have played the role, because it introduced the television audience to him and also because "[it] put a roof over my head and sent my children to college… and it was fun."
His black leather jacket is now in the Smithsonian "[His] parents…were there in 1980 when I gave the jacket to the Smithsonian. What an amazing journey that first of all I should have this honor and that they should be there to witness it."
On the Simpsons:
Many people have wondered why so many big name celebrities, like Henry Winkler, have lent their voice and their character to The Simpsons. For Winkler the answer is easy - but multifold.
One of the masterminds of the Simpsons is Jim Brooks who gave Henry his first job in Hollywood. Brooks was the co-creator of The Mary Tyler Moore Show and exactly one week after landing in Los Angeles, Winkler was cast in the show as a guest at a party. It is also because he thinks the Simpsons are incredibly funny and insightful as well.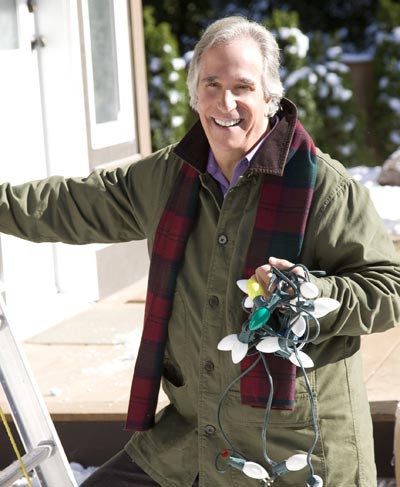 On acting, directing and producing:
Although he has done all three, he does not find it the least bit difficult to be directed by someone else. "Everyone needs an outside eye."
He describes the three positions in terms of sand. "Producing is like holding sand in your arms. You can never stop the drip. As a director, you try to get all that sand in one box. And as an actor, I get to play in the sand. I hope very sincerely - I get to continue to play in the sand."
He would like to play a mute some day - "…would love to challenge myself where I force everything into not saying anything."
On John Ritter:
He says simply, "John Ritter was one of my best friends. He was walking funny. He was an intellectual. He was limitless in his talent. He was plagued with demons. He was an incredible dad. He was one of my favorite people and I miss him all the time."
On Children:
Henry cautions parents on just how important it is to monitor what their children are watching and listening to. "Kids might be sophisticated intellectually but a child is never older than they are chronologically… really important to monitor what goes in those little brains."
On parents:
Winkler says, "I have a lot of advice for people with children with learning challenges. The child feels badly on their own. They know that something is not right. They want to do right. It is the job of the parent to be not only the advocate for the child at school but to be sure that the child self-image remains strong all the time."
Henry Winkler is a talented man who seems to really "get it" when it comes to the things that are most important. His character in "The Most Wonderful Time of the Year" shares much of the same insights.
Take some time out of the hustle and bustle of the holidays and gather your family around the television on December 13th. It just might help make this holiday season truly "the most wonderful time of the year."
---
Want to listen to highlights from the interview with Henry Winkler? Just click the links below.

In this first podcast, Henry Winkler talks about his role of Fonzie on Happy Days, working with Adam Sandler and the late John Ritter, his favorite movies, TV shows and James Bonds He discusses how he'd like to be remembered and what role he wants to play that he hasn't played yet.

Listen to the first podcast with Henry Winkler.


---
In the second podcast, Henry Winkler talks about his learning disability. Who knew that the Fonz was dyslexic? In fact, he is now the author of a series of books for children with learning challenges.



Listen to the second podcast with Henry Winkler.
---
In the third podcast, Henry Winkler discusses how a Jewish person can star in a Christmas movie and how he celebrates the holidays.

Listen to the third podcast with Henry Winkler.


---
---
Top of Page
Back to TV
Back to Christmas
Back to Jews in Cleveland