Dale Evans: Beyond the Happy Trails
This first-ever documentary on the wife of Roy Rogers details the incredible life of Dale Evans and will inspire all ages with her extraordinary legacy. Starring in more than 100 movies and television shows was just a fraction of what she accomplished.
Despite being a destitute, divorced, single-mother at age 16, Dale went on to be a role model for millions of young girls, author 28 inspirational books, write over 300 songs, provoke a generation to care for special needs children, adopt five children, and live out a beautiful 50-year marriage to Roy Rogers, King of the Cowboys.
The Dale Evans Film Project, in conjunction with the Roy Rogers family, has produced a powerful documentary celebrating Dale's life. Over 20 family members and close friends were interviewed for the documentary and share heart-warming memories of both Roy and Dale. Her inspirational story is woven around action clips from their movies and television shows and makes use of exclusive access to family photos.
Dale Evans: Beyond the Happy Trails was produced to celebrate Dale's life, remind us of her legacy, and to bring back the values, faith, and character lived by both Roy and Dale to a new generation that did not have the privilege to grow up with them.
The documentary was released on November 5, 2011 in conjunction with Roy's 100th birthday. It is packaged in a two-DVD 100th Birthday Commemorative Collection and is available at www.RoyandDale.com. Public and private screenings are being held across the country over the next 12 months as Dale's 100th birthday will be celebrated on October 31, 2012.
The commemorative 2-DVD set contains:
Dale Evans: Beyond the Happy Trails (run time: 33 min.)
My Pal Trigger (run time: 79 min.)
Lights of Old Santa Fe (run time: 78 min.)
The Roy Rogers Show: Brady's Bonanza (run time: 27 min.)
The Roy Rogers Show: Backfire (run time: 27 min.)
---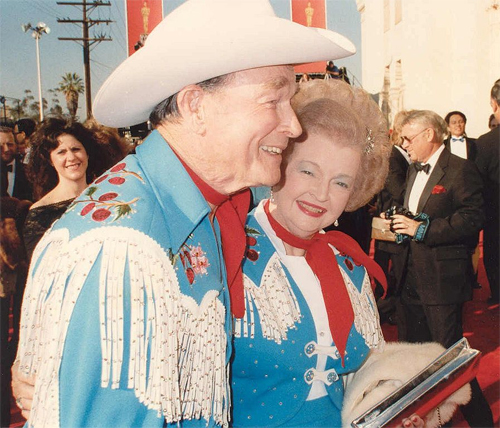 Roy Rogers and Dale Evans at 61st Academy Awards 3/29/89
(photo by Alan Light)



Here are some fun facts about Roy Rogers and Dale Evans that you might not have known.
Roy was born Leonard Franklin Slye in Duck Run, OH on November 5, 1911.

Dale was born Frances Octavia Smith in Uvalde, Texas on October 31, 1912.

Dale's first marriage was to Thomas Fox when she was 14 years old.

Roy and Dale were married in Davis, OK on December 31, 1947.

Roy and Dale were married for 51 years.

Roy and Dale had an undeniable love for children and family. They had nine children, including the adoption of five children of multiple races and nationalities.

During World War II, Dale performed nearly 500 shows for the USO and the Hollywood Victory Committee.

The first movie that Roy and Dale starred in together was "The Cowboy And The Senorita" which debuted in 1944
.

Roy and Dale were in over 100 movies and had their own radio show which aired for nine years before making the move to television with "The Roy Rogers Show."

The Roy Rogers Show debuted on December 30, 1951 and aired 100 episodes until 1957. Stars of the show were: Roy Rogers and his horse Trigger, Dale Evans and her horse Buttermilk, Pat Brady and his Jeep Nellybelle, and Bullet The Wonder Dog.

Dale authored 28 books, the most well known being Angel Unaware, and wrote over 400 songs.

There were more than 2,000 Roy Rogers fan clubs around the world, including one in London with 50,000 members.

Dale was named to the National Cowgirl Museum and Hall of Fame in 1995.

Roy and Dale were elected to the Western Music Association Hall of Fame in 1989

Dale has two stars on the Hollywood Walk of Fame and Roy has three.

Roy and Dale created The Happy Trails Children's Foundation to serve at risk and abused children.

Roy passed away on July 6, 1998, at the age of 86.

Dale passed away on February 7, 2001 at the age of 88.

Roy and Dale are buried next to one another at Sunset Hills Memorial Park in Apple Valley, CA.
---
Top of Page
Back to Television for Cleveland Boomers and Seniors