Labor Day
A Short History of This National Celebration of the Working Person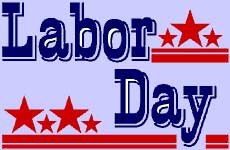 Although we think of it as the end of summer - there's a lot more to Labor Day then the last chance for a picnic!
Celebrated on the first Monday in September, Labor Day is dedicated to the American Worker - all workers, in all categories, in all socio-economic groups. It is a tribute to the contributions made by these workers and the direct relationship between their hard work and our nation's growth, well-being and prosperity.
We have been celebrating Labor Day since September 5, 1882 and yet there is still doubt as to its origin. Some records indicate that the originator was a man named Peter J. McGuire. McGuire was the General secretary of the Brotherhood of Carpenters and Joiners and a cofounder of the American Federation of Labor.
Others believe it was not Peter McGuire but Mathew Maguire, a machinist, who founded the holiday. This seems to be the best-documented source.
Maguire, who became secretary of Local 344 of the International Association of Machinists in Paterson, N.J., is said to have proposed the holiday in 1882 while serving as secretary of the Central Labor Union in New York.
What we know for certain is that the Central Labor Union did adopt a proposal and formed a committee with the purpose of demonstrating and picnicking in honor of the workers.
From 1882-1884 New York was the only city celebrating this "workingman's holiday" but by 1885 the idea was spreading to other cities.

Until 1887 legislation dealing with the holiday was only on a municipal level. But in 1887 Oregon became the first state to introduce the holiday, followed the same year by Colorado, Massachusetts, New Jersey, and New York.
On June 28, 1894, Congress passed an act making the first Monday in September of each year a legal holiday. Today, Labor Day is observed in the U.S. as well as Canada, and other industrialized nations.
---

---
Top of Page
Back to Labor Day Thoughts
Back to Holidays