Cinco de Mayo
Guacamole & Margarita
Frozen Cranberry Margarita

Ingredients:


6 ounces tequila
6 ounces orange liqueur (such as Grand Marnier)
8 ounces unsweetened 100% cranberry juice
1 / 2 cup honey
Pinch salt
Ice cubes
Directions: In a blender, combine the tequila, orange liqueur, cranberry juice, honey and salt.
Add enough ice to fill the blender about two-thirds full. Blend until smooth.
Serve immediately. Makes 4 servings.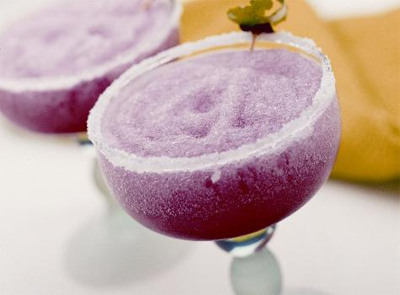 ---
Tijuana Margarita

Ingredients:


1 1/4 cups margarita mix
3/4-ounce Rose's lime juice
1 1/2-ounces tequila
1 teaspoon TABASCO® brand Green Pepper Sauce
lime juice, as needed
ice, as needed
sugar, as needed
Instructions:
Combine margarita mix, Rose's lime juice, tequila and TABASCO® Green Sauce in a blender and mix well.
Dip the rim of a margarita glass in lime juice and coat with sugar.
Fill glass with ice, pour in margarita mixture.
Garnish with lime slice and serve.
Fabulous Fiesta Guacamole

Ingredients:


6 ripe avocados, peeled, seeded, cut in chunks
Juice of two fresh limes
1/2 cup chopped cilantro leaves
1 cup corn kernels
1 red bell pepper, cored, seeded, diced
1 small red onion, diced
1 cup grated Jalapeno-Jack cheese
1 tsp hot sauce, or to taste
1 tsp salt, or to taste
Instructions:
Mash avocado chunks with lime juice in large bowl.
Add cilantro, corn, bell pepper, onion, cheese, hot sauce, and salt.
Combine well.
Taste, and adjust seasonings with more salt and hot sauce if desired.
Serve with tortilla chips for dipping at your Cinco de Mayo celebration
Makes 10-12 servings
---
---

---
Top of Page
Cinco de Mayo
Back to Holiday & Seasonal Recipes