Trip to Germany Part 3 - Continued
The River Rhine
by Ron Kitson
In the country.
While cruising the rivers of Europe may at times be more breathtaking, driving through the small towns and villages better shows us how these people live and have lived over the past thousand years or more and it isn't a bit like Sugar Creek nor anywhere else in Ohio's Amish country no matter what their brochures tell you.
On the Farm in Germany does not mean living out in the country. Farmers tend to live in villages and small towns. Their houses and barns are usually connected and they often walk their animals down the streets to get to the fields.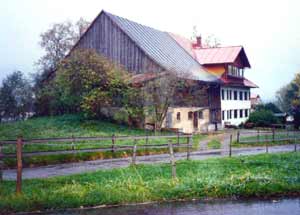 Barn/House Combination



These small towns are not far apart. The barnyards are usually in the back and not all that noticeable from the street depending on wind direction of course.

Not everyone who lives in these small towns is a farmer, however. There'll be establishments such as a bakery, butcher shop, restaurant, church, school, etc., and some simply prefer life in the slow lane and buy or build a home away from the cities.

Some residents work in these shops or perhaps in a nearby city or may be retired like me. Just like here, farming has become a difficult challenge competing with the large producers and many of the old farms are no longer being worked. Some of the land has been converted to housing or other developments and many of the small villages have become larger towns. Sound familiar?

The farmers used to spray liquified animal waste on the fields using what we called the "honey wagons" and even if you didn't see them, you knew when they were fertilizing. It would clean your sinuses and smelled like a mix of seasoned cow manure, rotten eggs and ether.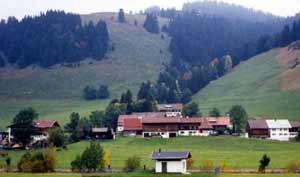 Small Farming Village in South Germany



Usually there is one church per village and while one Dorf may be entirely Protestant, the next community, a short bicycle ride down the road may be all Catholic. On the other hand, larger cities may host a potpourri of faiths.

Back to the Rhein and a visit to the beautiful old town of Hattenheim founded in the year 954 as Hadirsheim to become Hattenheim sometime during the 13th century.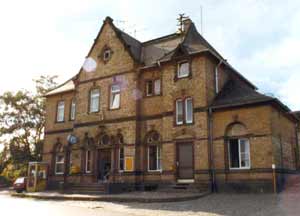 Hattenheim Bahnhof (Train Station)



Here we visited the family of Brigitte, one of our close friends in Ohio who, along with her husband (and my golfing buddy) Larry, traveled with us on our trip in 2004. By the way, I didn't see any golf courses in Germany. They do have them but I didn't see any.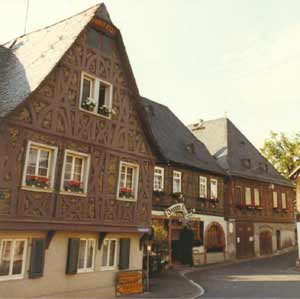 Market Place in Old Hattenheim



Back in the late 1950s while I was in Zweibrücken, Larry was assigned to a remote USAF radio shack high on a hill near Hattenheim and rented an upstairs room near where Brigitte lived. As the story goes, she would sometimes walk past his window to water flowers at the nearby graveyard and did not go unnoticed.

On one occasion, he opened the window, cleared his throat and she smiled. The flowers were soon to become over watered (even on rainy days) while the frequency of the trips increased until, well, (see below.)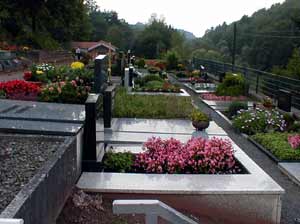 Graveyard in Öberauerbach
near Zweibrücken



Grave yards are also quite different here with little if any grass. Can you imagine the size of our cemeteries a thousand years from now? Think about it and perhaps you'll understand why theirs are not only compact but the plots are rented for a period of years and let's say after 20 years it is not renewed, it will go up for rent like an apartment and someone else will reserve it.

(By the way, I'm not fielding questions on this subject, I don't know what they do with them.) Most graves I saw were covered by a marble sheet, others with pebbles and most all were adorned with flowers. Marker stones are much like ours. Germans, as with Brigitte, tend to be fond of flowers and do keep them watered.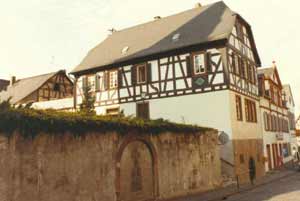 The old Schoolhouse where our friend learned her ABC's



People in the old section of Hattenheim prefer small cars because the larger ones would need to be hinged in the middle to make it around the tight corners of those narrow streets. A Hummer (or Army truck) for example just might take out all the front steps on the narrow residential streets.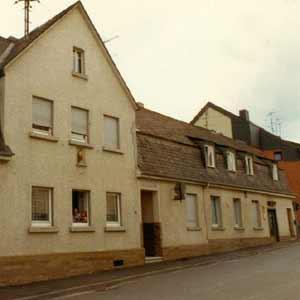 Some older homes in Hattenheim showing them built next to the sidewalk. No grass to cut in front of these old homes.



The town of Hattenheim owes its existence to the Rhein River and the incredible, edible (and drinkable) grape and of course, their world famous wines in general, Riesling in particular. Above and to each side of the Rhein, the hills are blanketed by vineyards providing income either directly or indirectly to most area residents. I wouldn't go so far as to say they worship the grape but it has certainly earned their respect.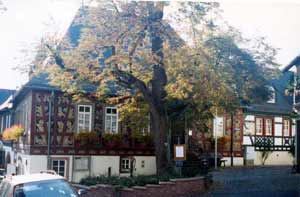 More Hattenheim Shops



Hattenheim is a small town of approximately 2,300 residents and St. Vincenz is their Catholic Church which dates back to 1239. It's a small church compared to many we've seen in Europe but a beautiful church none the less.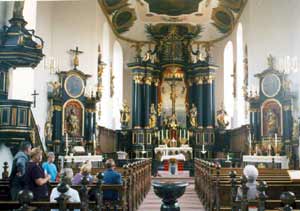 Chapel of St. Vincenz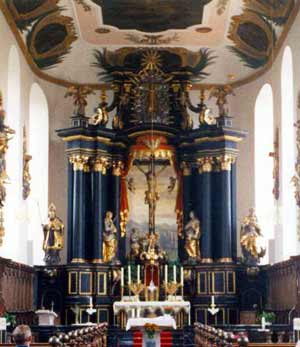 Chapel of St. Vincenz - closer view



Larry & Brigitte were married here in 1958 and her parents, grandparents and indeed most of her ancestors of record along with one of their daughters were all married in St. Vincenz. Her mother's maiden name of Gerhard is recorded in the Hattenheim chronicals as early as 1442.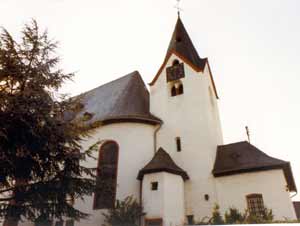 St. Vincenz
All but the tower was destroyed during the 30 year war and is today a part of the newer and larger St. Vincenz built 1739 to 1740.
On the hills above town you'll spot little chapels where growers pause to give thanks for good crops past and humbly request more of the same. Unlike the chapels, the Cathedrals are large and quite incredible and to build one like them today would be unthinkable and well beyond the holy budget.
To think they built and lavished these huge houses of worship without blueprints, without heavy machinery, hoists or cranes is beyond comprehension. How did they paint those high ceilings for example or move and lift those heavy blocks of stone? One must also consider the fact that labor was cheap.
Some of the very old structures that remain are in ruins but a house they call the "Burg" caught my eye so I took this picture.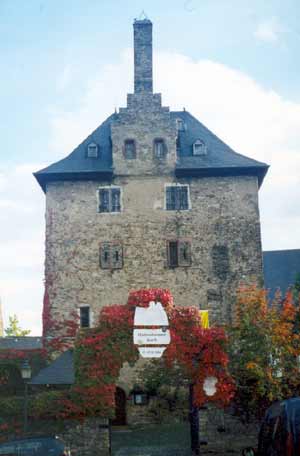 The "Burg"


It was built in 1118 by a Baron and is now owned by Verkehr Verein, a society that is akin to our Chamber of Commerce and is available for a variety of celebrations or festivities. It still appears to be in pretty good condition.

Rüdesheim is a little more than a Tiger Woods drive west and down stream from Hattenheim and a popular port of call for the cruise ships. It is one of the most visited of all the small towns in Germany.

From the outlook at the Niederwald Memorial, visitors can enjoy awesome views of the Rhine valley, the sloped vineyards and the towns of Rüdesheim and Hattenheim.

Our visit to Rüdesheim was unexpectedly cut short but it is my sincere wish to return in the not too distant future to become better acquainted and to take more pictures of the quaint little candy shops, the narrow cobblestone streets and historic landmarks such as the Adler Tower, thousand year old Brömser Castle, and the ruins of Ehrenfels Castle.

I know I promised to take you back to Rothenburg in Part 3 but this has already become a short novel so let's do that in Part 4.

Also, a short trip to Neustadt and the Hambach Castle in the Palatinate where the first German constitution was pieced together and since the 27th of May, 1832, they have celebrated the "Hambacher Fest" in honor of German unity and consider Hambach Castle the "Cradle of German Democracy."

Also ahead, a look at education in Germany and our wonderful week on the Danube.
---

---
Top of Page
Back to Ron Kitson
Back to Travel
Back to Cleveland Germans