Germany Part 1 - (continued)
"Was ist los In Germany"
by Ron Kitson
There is no Niagara Falls in Germany to provide electricity but they do have a number of atomic power plants and are installing hundreds and I suspect thousands of very large windmills that we saw just about everywhere we went in Germany.
At one point where the view was good I was able to count twenty-five of them.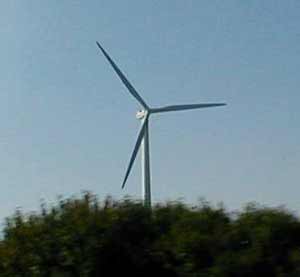 They stand very tall, well above the forests and we first noticed them from the air before landing in Frankfurt.

They generate a lot of electricity and yes, they are expensive to buy but they are fueled by the wind and the wind is free. There are also no hazardous remnants to worry about either.

We spent most of one day in Speyer in South Germany visiting the Massive Speyer Dom church, lunch w/quenchers and going through the incredible Speyer Technik Museum.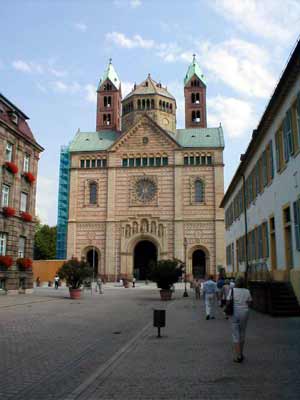 The Speyer Dom Church
On display here is just about everything from the earliest motorized bicycles and automobiles, the history of steam power and calliopes, most of which are indoors.
Also, a submarine, a replica of the Wright Brothers first flying machine, fighters and bombers and most other aircraft from the beginning of flight up to and including a Boeing 747 which is mounted high above the ground and open for the public to walk through.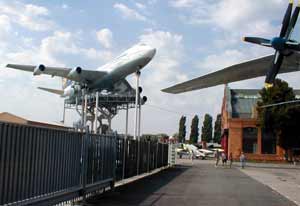 Speyer Technik Museum


They even have a turbine from an atomic power plant on display and much more. A very interesting place.

Rothenburg

We visited the ancient walled city of Rothenburg ob der Tauber (they don't pronounce the h) that had its beginnings in circa 970 and granted a charter in 1172 when construction began on the first section of the city wall.

While there is a modern community outside the wall, all buildings within it are unchanged from the original structures with the exception of added utilities, sewers and necessary repairs. Most of the entrance doors have been enlarged because folks grow to be a lot taller now than they did in circa 1100.

Here is a tavern that sits on the square in front of the Rathaus or City Hall (in the shadows) in Rothenburg. You'll notice three time pieces.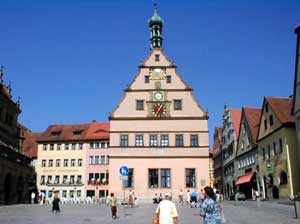 The highest is a sundial, below it is a 24 hour clock dated 1683 and just below that is a more modern 12 hour clock.

The shops on the right are not really leaning. We are looking up a rather steep incline which makes them appear that way. If you have read my article titled "Trikes and Bikes" you will recall my mention of the yellow bicycles used to deliver mail in Germany.

Well, I got a shot of one in Rothenburg and here's what they look like. Those little parking wheels help support a top heavy load and flip up for riding.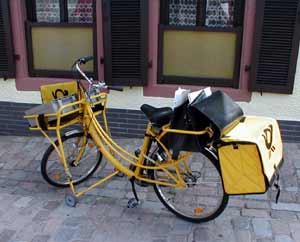 There is much more to "show and tell" about this wonderful tourist attraction so we shall return to Rothenburg in yet another article so "stay tuned."
The houses are much different in Germany than in America and very little wood is used other than for doors, windows, rafters, perhaps stairways and sometimes ceilings. For the most part they are made of concrete or insulating layered block (on the outside) with thick concrete walls and ceilings throughout.
It seemed odd to be up in the attic and walking on concrete. They don't use door knobs, just levers like you see in nursing homes because they are so much easier to use. If your hands are full, you can open a door with your elbow.
Most windows and some doors allow you to tilt them in at the top for ventilation or swing them open as our doors do and most have roll-up shutters that can be opened and closed from the inside. We saw no window or door screens on any of the homes we visited and flies were not a problem.
The trouble with our system here is that the flies follow you in through the doorway and then can't get out because of our screens. And all roofs seem to be of tile and most are red. In some towns, only red roof tiles are permitted and I'm not sure why that is.
Pictured here are different shades of clay shingles or tiles. Most houses are covered with stucco, have small back yards or gardens while the front of the houses are built at or close to the sidewalk.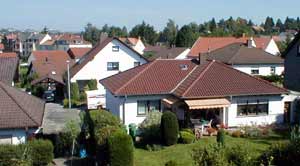 They ride bicycles a lot and I do know why that is. It's because the cost of gasoline there translates to between five and six dollars per gallon. But they use them for transportation so they are full sized.
The new bikes are 24-speed and I don't know why that is. I thought 10 was a lot. We also saw a number of young kids riding unicycles and saw them on display in shops.
Motor Scooters are also very popular and I think I'd like to have one like this BMW.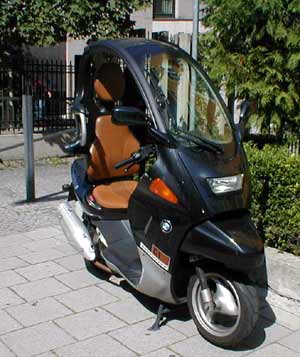 In downtown Munich we saw thousands of bicycles. Between the curb and the sidewalk as in many other cities, is a bike path for bikers only.

We watched and heard the famous "Glockenspiel" in the main tower of the "Rathaus" on Marienplatz, walked through the huge marketplace in the heart of Munich as well as the English Garden, a very large park with a small lake and acres and acres of lawn frequented by sunbathers who prefer not to have any untanned portions on their (lovely) bodies, ah, so I was told.

I really didn't stare because the women didn't appreciate that...not the sunbathing women mind you, the women with us and a familiar hand kept blocking my view...hey, was ist los?

Sorry, no pictures from the English Garden. I do however have a number of good pictures from Munich which I will share with you another time.

This has been a general synopsis and while I cannot elaborate further on what I saw (or didn't see) in the English Garden, there remains a lot to tell you about the various other subjects herein.

All the above photographs were taken by your author on my trusty old Olympus D-360L 1.3 megapixel Digital Camera.

Our thanks and appreciation to Lynn Byrnes of Palm Tree Travel in Rocky River Ohio www.palmtreetravel.joystar.com for arranging our flights on short notice.

(To be continued)



---

---
Top of Page
Back to Ron Kitson
Back to Travel
Back to Cleveland Germans