Do you remember...
Batman's Batmobile?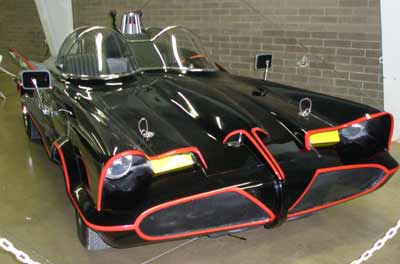 This Batmobile was on display at
the Ghoulardifest in Medina.


Batman first appeared in May of 1939 in Detective Comics #27, but the first true Batmobile did not appear for another two years. The Batmobile made its career debut in Batman #5, then appeared on a comic cover for the first time for Batman #20.
According to a comprehensive Batmobile website, In 1955, the Lincoln division of Ford Motor Company designed and built a futuristic concept car called the Lincoln Futura.
It was built entirely by hand in Turin, Italy at a cost of $250,000, and like many concept cars, was never put in to production. In the mid 1960's, George Barris of Barris Kustom City acquired the car for $1 directly from Ford.
Fast forward to August 1965, the "Batman" TV show producers approached George to have him build a new Batmobile for their upcoming show. The only catch was the car had to be ready for action in a mere three weeks.
Seeing the bat-like qualities his Futura already had, George felt it was the perfect answer to the quandary 20th Century Fox had created.
Three weeks later, in October of 1965, the Batmobile was born and television history was made.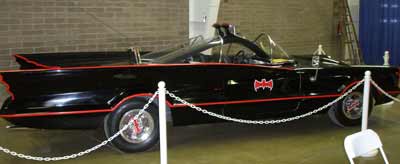 ---
The Batmobile has gone through many different looks due to different comic artists and updating over the years but this 1966 model seems to be the classic.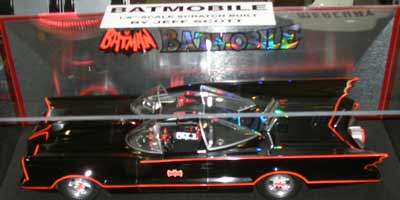 Scale Model of the Batmobile
---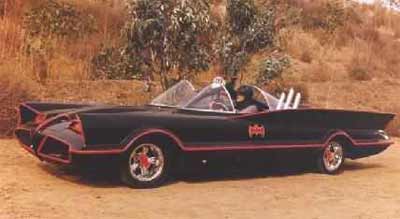 Batman in the Batmobile in the Batman TV series
---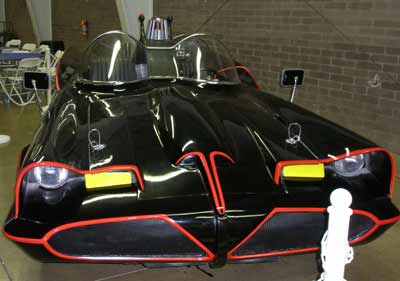 Jimmy Dimora in the Batmobile
---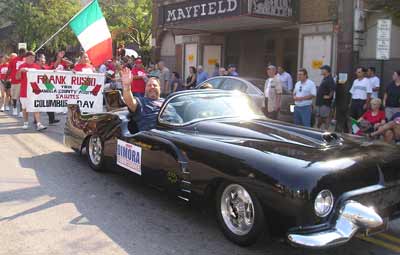 In recent years, Cuyahoga County Commissioner Jimmy Dimora has used a Batmobile for parades as seen in this shot from the Columbus Day Parade of 2007.
---

Visit BatmobileHistory.com for lots more on theBatmobile!


---
---