This Year's Theme:
Celebrate Long Term Living

The theme of this year's nationally recognized Older American's month is "Celebrate Long Term Living". The theme was selected by the Administration on Aging (AoA) in an effort to recognize and acclaim the contributions made by older persons in their communities.

To begin the celebration the U.S. Administration on aging encourages you to join them in a walk on the National Mall.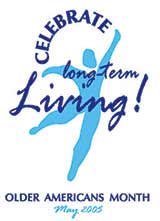 This will be the fourth such event in our Nation's capitol. During the thirty minute walk the AoA will provide them with tools and tips for healthy living.
Not everyone can take off to Washington for a thirty minute walk, so the AoA hopes that people will walk an extra 30 minutes in their own area - hopefully with a group of friends.
The march in Washington will be rain or shine with an indoor venue if the weather doesn't cooperate. Don't let bad weather stop you either - there are plenty of indoor places you and your group can walk.
The other part of the experience is to learn more about aging and read about tips and tools to help you enjoy the process. You can find a lot of those tips and tools right here on ClevelandSeniors.Com so take an extra few minutes and read some of the articles you may otherwise have skipped over. You never know what you'll learn.
Or you can walk to your library and do some research there, and a walk in the park is always healthy and educational!
Americans are living longer lives. The choices we make every day will help make those days happier and healthier. Making positive choices when it comes to food, exercise and even our attitudes can help prevent a lot of the ailments that have tormented older Americans in the past.
Opt for fresh air, healthy food, exercise and upbeat companions are you will not only live longer but will enjoy it much more.
---
Top of Page
Back to Forever Young Resources