Sokolowski's University Inn
Reviewed by our Secret Senior - February 2010
Sokolowski's University Inn
1201 University Road
Cleveland, OH
216-771-9236
Click for a Mapquest Map and directions
In a nod to a time gone by, Sokolowski's University Inn bases their three-quarters of a century of success on giving people what they want - good food at a good price in a good atmosphere.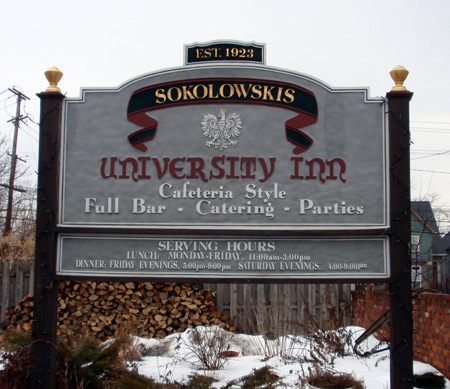 Don't expect to be waited on or catered to when you eat at Sokolowski's. It's not going to happen. Instead you will push your own tray through the cafeteria line, select your own desserts, pour your own beverages. If you come right at noon, or other busy times, don't be surprised if there is a line both in front of and behind you. Things move quickly and you never really feel burdened by standing in line too long.
Numerous specials are written on the chalkboard as you begin pushing your tray. Salads start the line, followed by a section of mouth-watering desserts. If you are never tempted by desserts, this may be the place to break you. It is difficult to walk by fresh baked pies, huge slices of cake, rice pudding and more.
An interesting selection of beverages come next including various specialty beers. Several of us enjoyed a Vanilla Creme in a bottle with a Sokolowski's label. You can also choose water, the usual soft drinks and hot beverages.
When you get to the part of the line that deals with the main courses you will have some tough decision to make. Everything loks and smells so good. Salisbury steak, bratwurst, kilebasi, pierogi, stuffed cabbage, chicken paprikash, pork chops and a variety of grilled, baked and fried fish are all offered. Not everything every day - but enough daily choices to make a final choice difficult.
The lunch time special prices average about $8.00 and include your choice of two sides such as pierogi, mashed potatoes, vegetables, etc. And the portions are large.
Lunch is served from 11:00 - 3:00 weekdays. Dinner is available on Friday (5:00- 9:00) and Saturday nights (4:00-9:00). Friday and Saturday nights also come with entertainment by Tom Ballog, piano player. Dinner prices are slightly higher with the highest item being a full slab of ribs or a New York strip steak for $15.99.
Parking is free in their lot and there is ample space.
For seniors or anyone with mobility issues, the building has an array of steps - one here, one there, but they are not high and there is always an alternative ramp or alternative entrance/exit. There is no reason to be concerned about carrying or maneuvering a tray by yourself either. There is someone from the restaurant who will take your tray to your table with no fuss or ado.
Restrooms are always an indicator of the establishment's overall attention to detail and cleanliness. The ladies room was not disappointing. Again there are two access-ways (one with 2 small steps, one with a ramp). Although there is only one stall, it is roomy and clean. The men's room was somewhat cramped but very neat and clean.
The different rooms of the restaurant boast a phenomenal collection of photographic memorabilia that could keep a person looking at something new and amazing for hours - if not days. There is an entire section of pictures of and with Pope John Paul II and hundreds of celebrities who have enjoyed the food.
Seats from old Cleveland Municipal Stadium are signed by numerous Cleveland Indians players and interesting artifacts can be found in every nook and cranny.
There is a reference to Chef Anthony Boudrain's appearance when Sokolowskis was featured on The Travel Channel's "No Reservations" show. The room exudes history and the food brings you back to an earlier and welcome time.
It is easy to find. Just take the West 14th Street/Abbey Rd. exit off I90 and Sokolowskis is a stone's trhow from the exit ramp.
For food, nostalgia and overall value, Sokolowski's is a very good choice.
---
Ranking (out of 5 possible spoons)

Food:





Service:





Price/Value:





Atmosphere:






Overall:





---
---

---
Top of Page
Back to Restaurant Reviews for Cleveland Seniors