Young at Heart
by Claire Schmidt
Note: About 25 lucky ClevelandSeniors.com visitors won free tickets to this special preview movie. One of the lucky winners sent us the following review.
---
This movie was nothing but fun for me! It made me laugh and wish for a chance to go on the road with this bunch. It is even more amazing to know that this movie is all real, not a made up story.

A group of seventy, eighty and even ninety year olds from Maine got together and started singing. They didn't sing the old stand-bys from their youth, though. This group covered James Brown's "I Feel Good", Jimi Hendrix and even some heavy metal hits!

We got to know the characters and, as their bonds and friendships grew, I felt my affection for them growing too. I really felt like I knew these people. How I would have loved to be performing with them!!!

Everyone in the audience had a good time - not just the older people. Young people, older people - it didn't matter. This was a great movie and I recommend it to everyone.

I am so glad I had the chance to see it!

Young at Heart opens at theaters everywhere on May 2nd. It is rated PG for some mild language and theme issues and runs 108 minutes.

Claire's rating is a solid "A".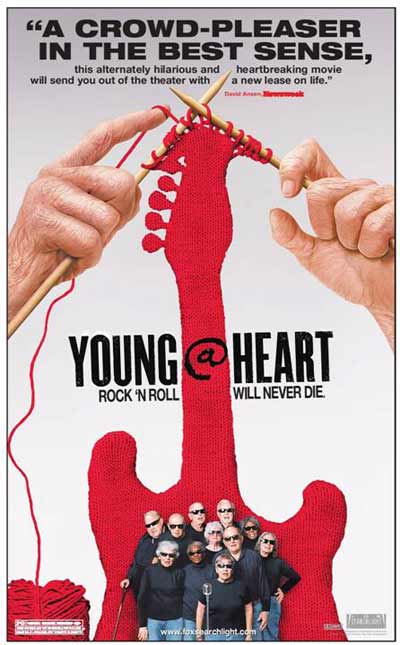 ---
Top of Page
Back to Movies