Covered Bridges of Ashtabula County
Travels with Pat & Tom Mugridge
Page 2 of 2



If you haven't see it yet, please read Page 1 of the Covered Bridges of Ashtabula County first.

After a restful sleep, we checked out the next morning and headed for a great breakfast at the State Street Diner in town, where they serve breakfast all day. On the way, we spotted one of the band members from the previous evening being driven in a convertible from the Conneaut car show. He didn't seem to recognize us, though.

First up was the Creek Road Bridge, followed by Benetka, Dewey, and the famous Smolen-Gulf Bridge. Unknown as to when it was first built, the Creek Road Bridge spans the Conneaut Creek. We particularly liked this bridge because there was a bench to sit on built by the Cub Scouts, and a great view of Conneaut Creek. It, like the Doyle Road Bridge, also sports a wagon wheel on its crest.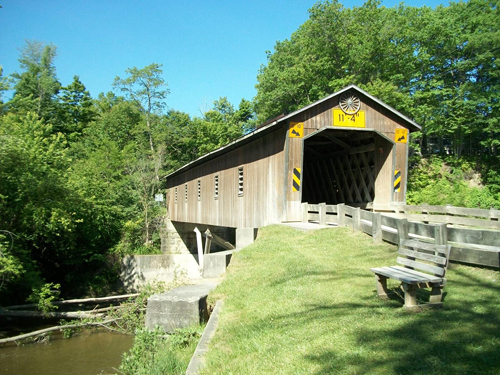 Creek Road Bridge
Benetka Road Bridge was built around 1900, and spans the Ashtabula River. It has a nice view of the river, and was a very quiet, peaceful place. Had we not had more places to visit, we could have sat there for quite a while (and maybe dipped a fishing line in the water).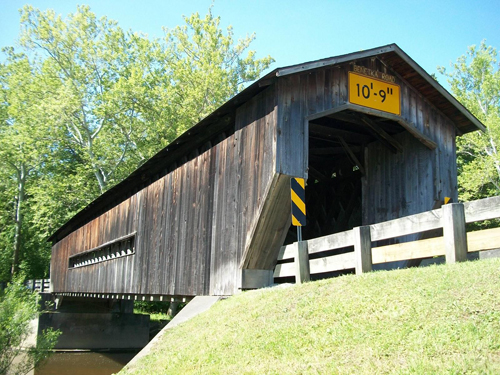 Benetka Road Bridge
Dewey Road Bridge is also known as the Olin Bridge, and also spans the Ashtabula River. It is the only bridge named for a family, probably because the Olins have owned property next to the bridge since it was built in 1873.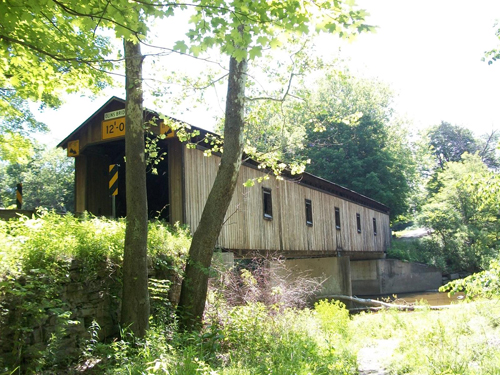 Dewey Road (Olin) Bridge
The Smolen-Gulf Bridge is quite famous, most likely because it is the longest covered bridge in the U.S.! At 613' long, it stands 93' above the Ashtabula River. Talk about an impressive bridge, covered or otherwise! The engineering and structural design was done by John W. Smolen, Jr., and the architectural design was done by Timothy J. Martin. Check out the information booth in a small park just off the road, then take the road down to Indian Trails Park at the bottom to see the bridge from below. The bridge can handle full legal load traffic, and is expected to last 100 years.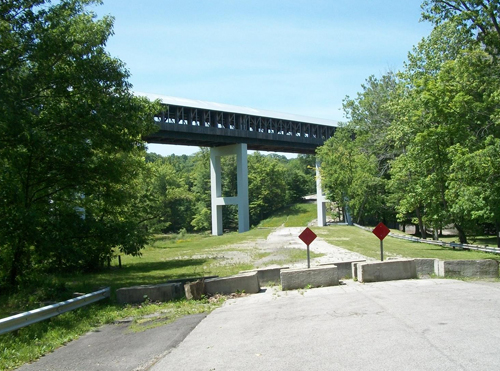 Smolen-Gulf Bridge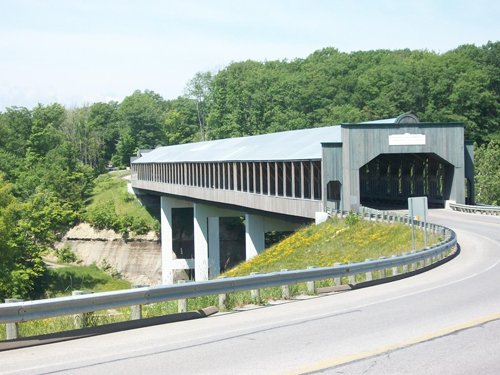 We had a hard time finding this bridge. My GPS had us on the adjacent highway (Route 11), telling us "you have reached your destination" as we quickly drove past, seeing the bridge just to our right. We got off at the next exit, luckily spotted the sign directing us to the bridge, and it was clear sailing from there. Can't always trust that darn GPS, it had already steered us wrong once before.
After a morning of bridge-seeing, we stopped to visit Ashtabula Harbor. We waited patiently (?) for the impressive lift bridge to lower after allowing boat traffic to pass, and made our way to Bridge Street. Bridge Street is chock-full of various shops, including a sweets shop where we found sea-salt chocolate and salt-water taffy. We also found a curio shop where Pat picked up a kaleidoscope. Despite the tempting restaurants, we were between meal times so we pressed on.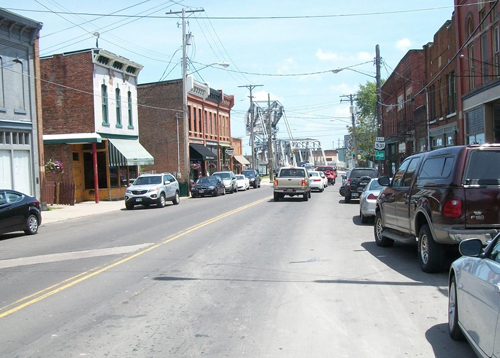 Bridge Street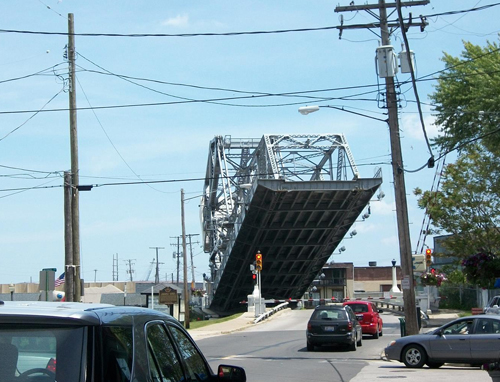 There is also a lighthouse in Ashtabula harbor. The original was built in 1836 just off the east pier but it was replaced by a new one on the west pier in 1876. A third lighthouse was constructed in 1905. It was placed on the National Register in 1983.
The bridges on Mechanicsville, Harpersfield and W. Liberty Roads would round out our bridge tour. The Mechanicsville Bridge, built in 1867, spans the Grand River. At 156', it is the longest single-span bridge in Ashtabula County, and is believed to be the oldest. It is directly across from the oldest tavern in the county -- the Grand River Manor Restaurant.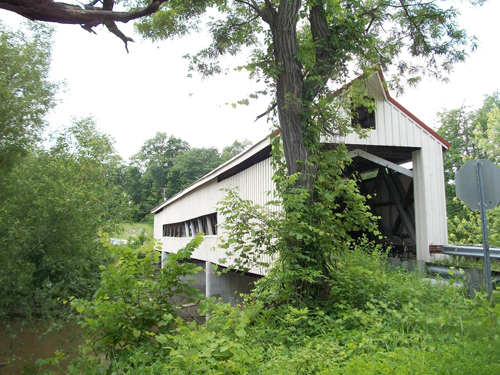 Mechanicsville Bridge
Harpersfield was perhaps our favorite. It has a large park, and a concession building where you can get some cold drinks and ice cream (another item that is a favorite). They also have fishing tackle and bait, which is handy because the Grand River offers a lot of good fishing just across the parking lot, and some people were fishing from the bridge itself. There is a large picnic pavilion and plenty of tables. On one side of the bridge is a waterfall. This bridge could be a destination in itself for a day trip and picnic (and angling).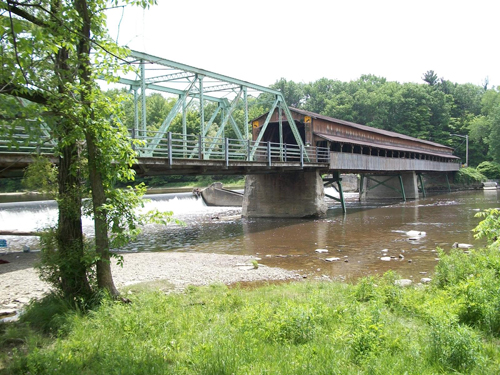 Harpersfield Bridge
The bridge itself is rather unique, having a covered pedestrian walkway (from where some of those previously-mentioned fisherpeople were fishing). At 228', it is the 2nd longest in Ashtabula County. It was built in 1868, and is also on the National Register of Historic Places. Harpersfield Bridge, with covered walkway photo
Last, and certainly not least, is the W.Liberty Street Bridge. Well, we actually could call it the least because, at 18' in length, it is the shortest covered bridge in the U.S.! It sports a toll booth as a reminder of the days when one often paid a toll to cross a bridge. Its unique design makes the bridge appear as if it is floating.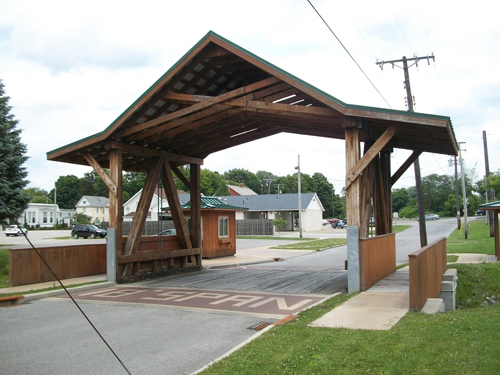 W. Liberty Bridge
With plenty of daylight still remaining, we decided to investigate Geneva-on-the Lake. The town was abuzz with activity, but we were lucky to find a parking spot not too far away. We made our way up and down the street, and decided to have a late lunch/early dinner at the Old Firehouse Winery. We enjoyed a flight of 10 different wines (don't worry, they were only 1 ounce samples), home-made nachos and salsa, and a nice big burger. The nachos were so good, and because they were so plentiful, we took what we couldn't eat with us for a nice snack later.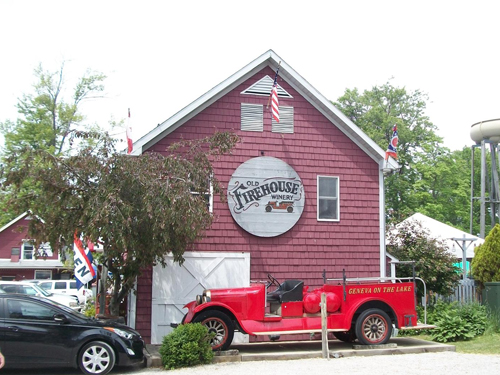 Old Firehouse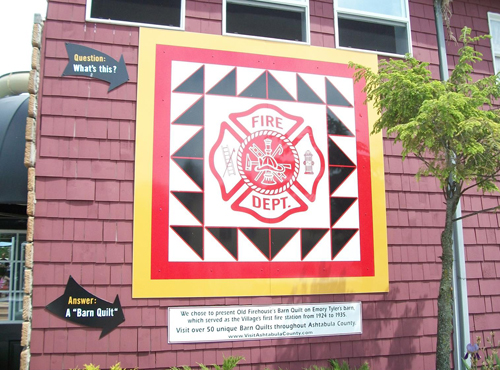 For you oenophiles, Ashtabula sports beaucoup wineries, and is considered by many as the Napa Valley of the East. With over 1,200 acres in production, 65% of all the grapes grown in Ohio are grown right here in Ashtabula. Not all are open every day and not all of them serve food, so be sure to check ahead of time so that you're not disappointed upon arrival.
For you outdoorsy types, campgrounds abound, family-owned as well as state and county parks, including primitive sites in wooded areas to full hook-up sites for RVs.
We avoided the highway and took mostly lake-side roads home. We decided to look for the large cottage on the lake in Madison that, for several summers, we rented with friends of ours for a week's stay. We did find the property, but sadly the cottage was razed long ago (we already knew this) to open up the view to Lake Erie from the home.
This was definitely a great weekend trip worth every minute. Again, we were lucky that the weekend we went was probably the best weather for the whole month (June 2015 was the 3rd rainiest month ever). Much of the information I needed to put the trip together I got from www.VisitAshtabulaCounty.com, where I asked for tour maps and the like. You can also call 1-800-337-6746.
I definitely recommend getting the Discover Ashtabula County guide book, it contains a calendar of events and listings of everything you need to know to discover what to do.
If you're thinking to do this tour, they have a covered bridges festival in October, which would be a beautiful time of year to visit. Check www.coveredbridgefestival.org for more info.
We really enjoyed our covered bridges tour, and are already planning our next trip. Check back to hear about our latest adventure, and be sure to let us know your experiences if you visit any of these places.
---
Top of Page
Page 1 of the Covered Bridges of Ashtabula County
Back to Travel for Cleveland Seniors