The Tempest at Great Lakes Theater


Great Lakes Theater (GLT), Cleveland's Classic Company, crowns its 2014-15 season with William Shakespeare magical masterpiece, The Tempest. The production will be performed in the company's intimate and audience-friendly home at the Hanna Theatre, Playhouse Square, April 10-26, 2014. Drew Barr directs the production.

Generous production support for The Tempest was provided by John and Barbara Schubert. Special Student Matinee Series support for The Tempest was provided by AkzoNobel Packaging Coatings and GLT's Student Subscription Program was generously sponsored by Eaton Corporation. GLT is supported in great part by the residents of Cuyahoga County through a public grant from Cuyahoga Arts & Culture. Season support is also provided by The Cleveland Foundation and the Ohio Arts Council. Media sponsors for GLT's 53rd season are The FORM Group, Ideastream (WCLV 104.9 FM and WCPN 90.3 FM), The Northeast Ohio Media Group and WKSU 89.7 FM.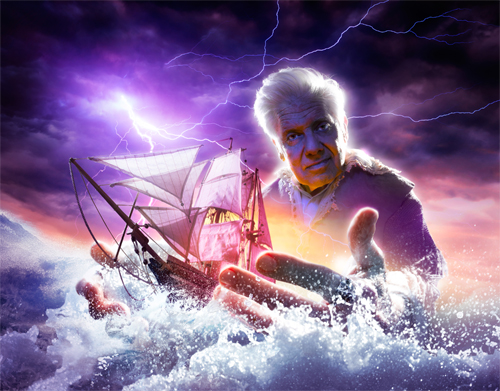 "Continuing our record-breaking season of Les Misérables, The Merry Wives of Windsor, A Christmas Carol and Dial 'M' for Murder, we are thrilled to share the final production of the year, Shakespeare's late romance, The Tempest," said GLT's producing artistic director, Charles Fee. "I am overjoyed to welcome Drew Barr back to Cleveland as director of The Bard's late masterpiece. Drew spent the last two years directing The National Theater of London's award-winning production of War Horse in Australia and Holland, so we consider this a homecoming for him!"

For Great Lakes Theater, Drew Barr most recently directed the company's critically acclaimed and record breaking production of Agatha Christie's The Mousetrap in 2012. Previous GLT productions include The Seagull (2009), The Crucible (2008), Arsenic and Old Lace (2007), Love's Labour's Lost (2006), You Can't Take It With You (2005), The Taming of the Shrew (2004) and Tartuffe (2003).

The Tempest is Shakespeare's final glorious gift to the theater. Tempted by spirits, teased by sprites, and tormented by a monster, a shipwrecked king and his party face the wrath of the betrayed conjurer, Prospero - a man they marooned on the enchanted island years ago. But revenge yields to redemption in Shakespeare's magical masterpiece. Along the magically tempestuous journey, passions are unleashed, villainy is thwarted and a family is reunited in a comic and cathartic tale of romance and renewal.

"There's something resonantly modern in Shakespeare's exploration of human consciousness," said director Barr of Shakespeare's romance. "Writing twenty years before Rene Descartes shook the philosophical world with his foundational assertion, 'I think therefore I am,' and three hundred years before Albert Einstein formulated his theories of relativity, Shakespeare dramatized the power of the mind both to imprison and to liberate.

Like his contemporary, John Donne, Shakespeare reminds us that 'No man is an island;' The Tempest dares us to open our hearts and minds fully enough to drown with all the world in the deluge of our senses."

Tickets and More information for The Tempest
---
---
Top of Page
Back to Out & About for Cleveland Seniors