Lucky Christmas
Hallmark Hall of Fame
Saturday, November 12 (8 p.m. ET/PT, 7C)
They realize just in time for Christmas that there are some things money can't buy.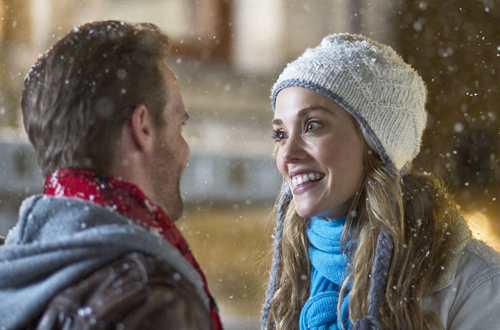 It doesn't seem all that long ago that Elizabeth Berkley was starring on TV's Saved By the Bell, but in fact the show first premiered in the late 80's.
So it's entirely fitting that the alluring actress is now starring in a Hallmark Channel Original Movie World Premiere as a single mom.
Part of the highly popular Hallmark Channel COUNTDOWN TO CHRISTMAS event that features more true holiday-themed programming than any other network, Lucky Christmasť casts Berkley as Holly Ceroni, a mom who has fallen on hard times as Christmas approaches. She's a personal chef at a time when no one can afford one, forcing her to take a waitressing job.
So expecting nothing, she buys a lottery ticket, kisses it for good luck, and tosses it into her car's glove compartment. And then, magic: Holly discovers the next morning that she's holding the lotto ticket that just won $1 million.
But wouldn't you know -- her car was stolen the night before, and the ticket along with it. Talk about turning fortune into misfortune.
It happens that a man named Mike Ronowski (Jason Gray-Stanford) is one of the guys who it turns out inadvertently took Holly's car, but his heartless pals force him to pursue Holly in order to possibly snatch some of her lottery loot.
But magic happens again when Mike finds himself falling in love with Holly for real, and realizes just in time for Christmas that there are some things money can't buy. Duh! Lucky Christmasť represents a perfect role for Berkley and a hot ticket for the entire family.
---
---
---
---
Top of Page
Back to TV for Cleveland Seniors and Baby Boomers