The Case for Christmas
Hallmark Channel Original Movie
Saturday, November 19 (8 p.m. ET/PT, 7C)
Santa Claus is served with a class-action lawsuit for irreparable emotional distress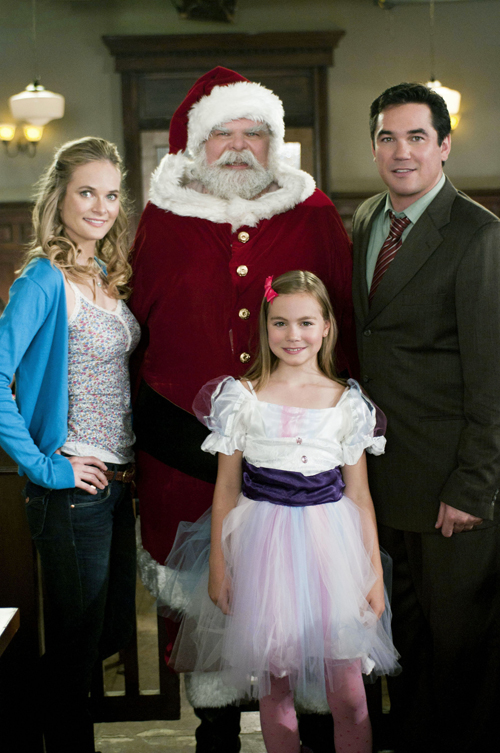 Even in this age of litigation, the one guy whom you'd think would be protected from legal harm is the one and only Santa Claus.
Are you going to sue him for leaving sour milk and stale cookies? For breaking-and-entering through the chimney? Of course not. But in the World Premiere of The Case for Christmas, a Hallmark Channel Original Movie, someone figures out a way to file suit against the world's jollyest and most generous of gift-givers.
Dean Cain (Lois & Clark: The New Adventures of SupermanĚ and The Three Gifts) stars as Michael Sherman, a lawyer and single father who struggles to find time for his daughter and for romance with his best friend, mechanic Lauren (Rachel Blanchard of 7th Heaven).
One day, he's given the opportunity to defend the biggest case of his career when Santa Claus (George Buza, X-Men) is served with a class-action lawsuit for irreparable emotional distress by a snobby sporting goods mogul named Braxton Bennett (Barry Flatman from The Kennedys). Bennett still carries around the pain of having been denied outrageously expensive gifts like a yacht when he was a child. The charge: Nick was guilty of neglect!
And as crazy as it all sounds, Michael finds that defending the greatest gifter of all is no sleigh ride in the park. In fact, things are looking grim for Santa winning the case, threatening the very future of Christmas!
Fortunately, we're confident that the yuletide will turn and sanity will prevail. We may even see the buffoonish Braxton change his tune once the evidence for Santa's goodness proves as overwhelming as we all know it to be.
---
---
---
---
Top of Page
Back to TV for Cleveland Seniors and Baby Boomers